There are many real estate portals coming up in the market. If you've embraced technology to digitally transform your business, and now you have a property portal, you must use it right if you wish to be successful.
---
In the old days, real estate agents had to promote property through the local newspaper. There was no Internet, so the only way to attract buyers was with newspaper ads. This meant placing as many classified ads as possible and hoping that someone would see them. Now, it's a completely different story. No matter if you want to buy or sell property, you can promote your property worldwide through a global network of property portals. 
So, What's a Property Portal? 
You can list homes for sale through the backend of your site. If you simply don't have the time to list real property manually, enter it in the system and it'll be automatically sent to any property portal that you'd like to advertise with. A property portal helps people buy, rent, and lease real estate property. Sellers and buyers can connect with one another. There are many options present online, so you're spoilt for choice. 
This Is How to Make Property Portals Work for You 
There are many real estate portals coming up in the market. If you've embraced technology to digitally transform your business, and now you have a property portal, you must use it right if you wish to make lots and lots of money. It's easy to grow and thrive in this ecosystem while serving your clients in the best way possible. If you want to find a buyer, spot the opportunities. 
Offer Agency-Like Marketing Services 
Following the global housing price crash in 2008/2009, there were very few quality residential products and they were mostly aimed at the luxury segment. Real estate economics have changed drastically and the result is that there are many new products for the market. There is an ever-increasing number of developments that impress through architecture, interior design, and facilities. Needless to say, they're not for the luxury segment. 
Developers roll out new projects, but it's not easy for them to sell the residential or commercial property stock. Make it easier for them to showcase their residential development listings online. Currently, you're not offering a plethora of services. This is why you should think about offering agency-like marketing services. There is less competition, so take advantage. Your goal isn't to build a mega-marketing agency, but to help developers get in touch with local audiences through your digital channel. 
Let Agents See How Many Visitors There are on the Page 
When you use a property portal, you should get the best results from day one. But how do you know if things are working out for you? One way would be to check the number of visits or page views, not to mention the property inquiries. Real estate agents can figure out if it's necessary to introduce a higher price or lower it for a couple of weeks. 
Property inquiries and page views are important metrics because they can be deployed as direct input in relation to the product. The point is that you can assess the performance of a marketed product. Realtors can look into many details if there's functionality built into the property portal. Take into account the possibility of including analytics technology for agents and vendors. Your efforts won't go unappreciated.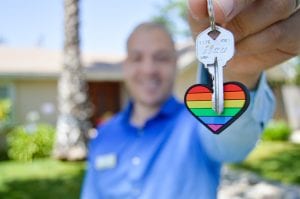 Trulia is a great example. This web-based platform offers users many tools that they can use to add value to their listings. It's hard if not impossible to create a similar service and offer sellers and agents a better alternative, yet it's worth giving it a try. 
Include Sponsored Ads from Other Real Estate Websites 
Property portals aren't about making money. They're meant to help regular individuals make the right decisions, provide transparency about the real estate market, and bypass shady practices. Maybe so, but you must find a way to finance the online platform. If you feature sponsored ads from other real estate sites, you can monetize the property portal. 
The advertisements will show up at the top or at the bottom of the search result pages. They're created by advertisers who want to promote their products. Advertisers can pay different prices for various ads, meaning that the amount of money you'll earn will vary. If you get more than 200 visitors to your property portal, you can make a great deal of cash without too much effort. So, get advertisers to your real estate portal. 
Integrate Social Media into your Property Portal 
At present, most real estate deals are closed online. People who are interested in buying and selling real estate use property platforms to interact in real-time. Customers in search of their dream home can find useful information through online searches. Sellers, on the other hand, can set up to sell their property within minutes. Let people migrate from the public view to the private one. In other words, integrate social media into your website. The site should sync with popular social media networks such as Twitter, Facebook. Create custom buttons and make sure they're highly visible. 
If you wish to take things one step further, create a decent mobile application. This way, anyone who has a smartphone or tablet can visit the website and interact with it in a meaningful way. Property seekers, no matter what means they're using, can browse the website. 
In the End 
Property portals are without any doubt the most popular home search method. Time represents a constraint for everyone, so it shouldn't come as a surprise that sellers and buyers alike have turned to the online medium. A well-crafted property portal can bring in a lot of profit. You can make money through various means. It just depends on what you do. If you don't like the idea of affiliate marketing or helping users better market their products, try creating your own product.