Based on real pros' experience and recommendations, we have prepared a list of tips for starting an effective SMM campaign on Instagram in 2020!
---
Building a powerful marketing strategy for Instagram takes time, effort, and requires in-depth market research. Without a doubt, engaging in social media marketing (SMM) can be challenging for small businesses. 
Lack of experience in this sphere can turn your strategy into a disaster and result in a complete waste of resources. Meanwhile, hiring a professional can be quite costly. However, there is a more straightforward way around this matter.
Thousands of companies have already gone a long way from making their first steps in marketing on Instagram to developing a solid strategy. They all had ups and downs and made mistakes, but you can avoid some! 
Based on real pros' experience and recommendations, we have prepared a list of tips for starting an effective SMM campaign on Instagram in 2020!
All you need is to be patient and goal-oriented, and we will show you the right direction in our quick guide.
Work out the Basics
To get started on Instagram, you have to set up your business account. At this stage, you should ensure that you pick the right username. The name of your business account should be easy to find and recognizable. In the future, it is going to make the most significant part of your brand's image, so choose it wisely.
Next, you have to optimize your profile. Everything from your profile's main picture, to the way you organize your feed matters for your image. Branding is vital for success, so here are a few extra tips to consider:
Image. It should be recognizable. Ideally, use the company's logo;
Bio. Your bio is the first thing potential customers will notice when they open the page. Therefore, it has to be clear, engaging, and informative. Tell your target audience who you are, what you do, and make them follow you;
Links. The only way to include links in your account is to place them in bio. Specialists recommend brands to link their websites or blogs to drive more traffic. Also, it is recommended to use link shorteners to make it look less cluttered.
Know Your Target Audience
To make the most benefit from your campaign, you should know exactly who you are trying to reach. Therefore, before making any further steps, be sure to draw a portrait of your "perfect customer" and take it from there.
Luckily, Instagram's advanced business features will help you analyze the engagement and reactions of the audience on your page. 
Using these features, small businesses can get all the stats needed to strengthen their strategies further.
Think of the Right Timing
Consistency and timeliness are the two most vital elements for success. In their feed, users mainly see the most recent publications. Therefore, to drive more attention to your posts, you have to figure out the right time, when your audience is the most active.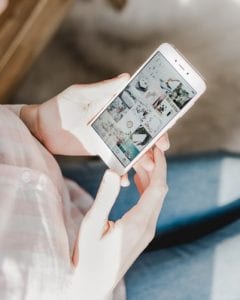 Consistency also matters. Specialists recommend making posts at least once a day to keep your followers engaged.
Use Hashtags Wisely
Hashtags are often overlooked by businesses though they shouldn't be. Using popular industry-relevant hashtags will help you expand the reach and find potential customers easier, so be sure to use them to their full potential!
Invest in Influencer Marketing
This technique is going strong this year, and the trend's expected to stick around in 2020 as well. The number of influencers on Instagram keeps rising, and so does their reach.
The most significant share of different brands' target audiences is made by millennials, and millennials love watching influencers on Instagram. 
Working with influencers can help your brand bring higher engagement and expand your reach. Thus, investing in influencer marketing is an excellent idea for small businesses in 2020! 
Look at it this way: you have a product or service; famous bloggers, in their turn, have the skills needed to create excellent content and a broad audience to notify about your product.
Create Valuable Content
Finally, the content is the King! Regardless of your niche, to succeed on Instagram, you have to deliver relevant, fresh, and engaging materials.
Here are a few tips on what users are expected to like most in 2020:
Educational and informative posts;
Behind-the-scenes publications.
The same applies to visuals. Every image or video you post should look harmonic and appealing on your feed. Therefore, be sure to create visuals that drive attention and make users want to stay to see more!
The Bottom Line: Social Media as the Future of Marketing
If you've been in the world of marketing for a while, you probably already have a handful of time-tested techniques and strategies that worked just fine for many years. The truth is most of those strategies don't work alone anymore. There is no need to sugarcoat it: the world is changing rapidly, and so are all the spheres of our lives.
Marketing also doesn't fall behind. Trends are changing, and specialists have to adapt to them to remain competitive.
Today, social media platforms play a vital role in every person's life. Modern consumers spend a great deal of their time on channels like Facebook and Instagram. They use these channels to communicate, exchange information, entertain, and learn. Thus, the most effective way to reach out to your target audience in today's world is to use the same platforms.
As for today, there are about a billion active monthly users on Instagram, and about 60% of them learn about new brands and products through this platform. With this in mind, we can say that social media and Instagram, in particular, are the future of marketing. 
Thus, each marketer and entrepreneur should keep up with SMM trends and apply them in practice. Hopefully, our quick guide will help you get on track!