Brenda Mayes says Davis School District ignored complaints from several parents before a bus driver nearly killed her son.
---
A Utah woman is suing Davis School District, saying a bus driver closed the doors on her biracial son and dragged him for nearly 200 feet.
And now, NBC News reports, Brenda Mayes is claiming the driver had a history of "racial animus" and acted out of malice. Her attorney provided film footage of the incident to the network—it shows Mayes' 13-year old son getting his backpack caught in the door, then pulled down the road.
"[The driver] then drove about 175 feet with Child Doe helplessly pinned to the outside of the door, near the wheel, in mortal danger," the lawsuit states. "[The driver] did this because of his animus toward persons of mixed race."
Luckily, the boy escaped without any serious injury.
But before and during that encounter, Mayes claims the same driver had subjected her son to racial discrimination, harassment, assault and bullying, all in violation of Title IX and Fourteenth Amendment protections.
Mayes filed her suit Tuesday in the U.S. District Court of Northern Utah.
NBC notes that Davis School District is named as a defendant along with bus driver John Naisbitt and the county transportation director.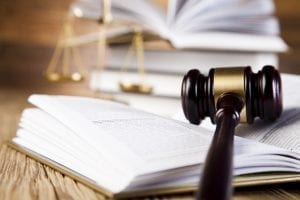 The suit alleges that, had the teenager's backpack broken, he "would have dropped to the pavement and could have been run over and killed by the bus or could have sustained serious injuries by the fall onto the concrete."
"He could have been crushed," Mayes told NBC News on Thursday. "That wheel would've crushed him, one turn could've crushed him."
According to Mayes, she lodged a complaint shortly after the dragging incident. But no action was ever taken—schools officials were purportedly silent, and transportation director Dave Roberts allegedly dismissed her concerns outright.
Mayes says that if the Roberts and the district had listened to her earlier allegations of racial bullying, her son could have been spared a traumatic experience.
"Roberts deliberately ignored many complaints prior to the events of Feb. 4, 2019, wherein plaintiff Brenda Mayes and other persons complained of abusive behavior including racially driven assaultive and discriminatory conduct by [Naisbitt] toward minor students such as Child Doe," the suit says.
The prior complaints, notes KSL.com, involve similar acts of aggression to mixed-race children. In two other encounters, Naisbitt allegedly closed the doors on biracial elementary school students; another time, he ignored a white sixth-grader's assault on a mixed-race third-grade girl.
"The Davis School District and transportation officials had absolute knowledge of prior racially motivated harassment, abuse and assaults by [Naisbitt] going back to September 2017," the lawsuit claims.
Another parent also may have asked the district and its transportation overseers to yank Naisbitt from his route and keep him away from children.
"I didn't want to take legal action," Mayes said at a Tuesday press conference. "I just wanted them to make sure this doesn't happen again."
Sources
Davis school bus driver bullied, assaulted students, civil rights lawsuit states
School bus driver dragged biracial student because of his 'racial animus,' lawsuit says
Utah mom files civil rights suit against bus driver who closed doors, dragged biracial son