Westminster Public School was recently hit with a suit by a group of teachers placed on leave because they refused to get the vaccine.
---
The lawsuits keep rolling in over the COVID-19 vaccination mandates. Earlier this week, a group of Westminster Public School teachers filed a lawsuit claiming their First Amendment rights were violated when "the district told them accommodations will not be made even though they received religious exemptions from getting the COVID-19 vaccine." As a result, they were placed on unpaid leave. The plaintiffs are represented by Igor Raykin, a Colorado Law Team attorney.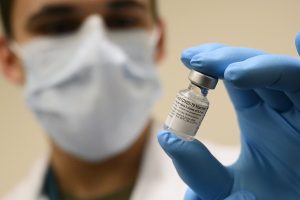 According to Raykin, the employees who were placed on leave "are not allowed to be on any Westminster Public Schools property, cannot talk to any kids and cannot talk to each other or any other Westminster public school staff under threat of termination." On October 12, the employees, including Ben Helgeson who has been a teacher for 20 years, that stated:
"During your leave, you are directed not to have contact with any Westminster Public Schools students or staff in person or through electronic communications, or be present on any Westminster Public Schools premises, without the permission of the Chief of Staff. Failure to adhere to this directive will lead to disciplinary actions up to and including termination of employment."
When commenting on the matter, Helgeson said he has "made a lot of friendships" and added, "I was to be forbidden from contacting my colleagues, my students, their parents…The emotions are overwhelming." 
At the moment, the suit is asking a judge to put an end to the "district's policy prohibiting unvaccinated teachers on unpaid leave from communicating with their colleagues and students." Raynik said:
"This is a tremendous hardship for them…You've already taken away their ability to make a living and also while they're working for the school district, their supervisors are not allowed to give them letters of recommendation if they want to get a job with another school district."
It's important to note that teachers and other employees can only get a letter of recommendation if they quit on their own, according to the district. When commenting on the lawsuit, Stephen Saunders, a spokesperson for the district, said, "WPS is reviewing the lawsuit and denies any wrongdoing. All decisions were made to support the health and safety of the WPS community." 
In addition to the recent lawsuit filed by the teachers, Raykin noted that he has also filed a religious discrimination complaint with the Equal Employment Opportunity Commission (EEOC) and will also file a suit against the school district.
Sources:
Religiously exempt teachers file lawsuit against Westminster Public Schools
Unvaccinated teacher put on unpaid leave files lawsuit against Westminster Public Schools