Meat alternatives are popular, not just with vegetarians and vegans, but with those who seek to change themselves and the world in which they live.
---
There is a new Beyond Burger available in supermarkets which the company promises to be "even meatier". It is the latest product of Beyond Meat, the rapidly growing producer of meat products based on plants which are meant to taste like meat and to provide a more sustainable, animal-friendly alternative to consumers.
Between the burgers that were first launched in 2016 and the new one 'Meatier' Beyond Burger, there are three main modifications
Apple Extracts
First, with an extract from apples, the fresh burger will be red before cooking and then it will change to brown while on the stove. This does not greatly influence the taste, but the look still has a major impact on the consumer.
Whole Proteins
Second, the ingredients have been modified to turn the burger into the most complete source of protein. A company spokesman said "The new recipe uses a mix of pea, mung bean and rice protein". The introduction of mung bean and rice proteins is to increase the fiber content of the product and make the protein quality of the item even more comparable to beef burger.
Marbling
Third and most remarkable from the package "Marbling" or pockets of fat have been added by Beyond Burger, which often contributes to the typical meat's savor and juiciness.
Plant-sourced Meat Alternatives
Our food system has been misled a lot by processed food companies. Tons of greenhouse gases are produced by increasing livestock in factory farms. Moreover, many critics believe that without addressing the enormous emissions from agriculture, we cannot deal with climate change. Low dose antibiotics are constantly being provided to animals because they are subjected to living in close quarters and this can cause them to become ill, which is a major threat to public health. This use of antibiotics is contributing to antibiotic resistance. And in farm animals, the average animal routinely suffers from intense cruelty and poor conditions.
The popularity and market share of products such as veggie burgers, false chicken and soya/almond milk is expanding day by day because they are even more tasteful and difficult to differentiate between animal products.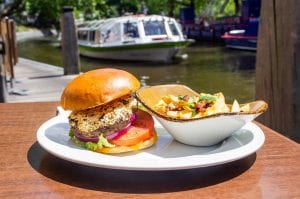 Nutritional Values in New Meatier Beyond Burger
In terms of nutrition:
Calories: 290 grams
Fats: 22 grams 
Saturated fat: 5 grams 
Proteins: 20 grams 
Sodium: 450 grams have been present for a four-ounce patty 
That is approximately 14 times lower in calories than the standard beef patty and about half the saturated fat in the same serving. You can check calories on calorie calculator by calculators.tech
For people who are concerned about caloric intake, beyond burger is a good option. Taking nutritional values into consideration before eating is the best way to remain healthy. That's why dietitians and nutritionists recommend checking your daily calorie requirement and consumption using a calorie calculator. The outcome of the latest technology, calorie calculators keep daily calorie consumption under control. You can have your calorie count in just three simple steps by using the calorie calculator.
What is the Public Response to Beyond Burger?
The flavor and texture of genuine meat has been more easily imitated by new advances in food science. While vegetarians have bought early veggie burgers too, 93% of Beyond Meat customers also purchase actual meat. This suggests that the business has been successful in producing something that appeals to meat consumers.
In addition, Beyond Meat was one of the creators of this latest generation of vegetable meat which was marketed periodically to vegetarians to replace vegetable burgers with more meat-like burgers based on beans. On this front, the company has made a major contribution to refining its products and improving its taste, consumers eating meat are fairly choosy about the taste of vegetable products.
Interestingly enough, vegetable meats do not have to substitute all animal-based food to create a major difference. The more the veggie meat sector grows, the more visible the effects will be.
Beyond Burger's team doesn't just believe that they've come across a niche, they say they have figured out what's called the "future of  protein." The new burger definitely appears to be another move in this direction.
Effects of Eliminating Red Meat
Research demonstrates that red meat is related to countless health hazards (this information could assist you in decreasing your consumption of red meat). While saturated fat is to be observed in burgers, vegans who follow a strict diet consequently do not eat a lot of saturated fats. There is no cholesterol in the Beyond Burger, although the fat is still in large proportion.
If you want to begin eating a vegan diet or if you just want to try a vegan diet, New Meatier Beyond Burgers are great things to assist you in meal planning.
GMO's and Sodium in New Meatier Burgers
Diet experts were extremely concerned about burger's sodium and the use of GMOs, which were both past issues at the company. According to a study in 2016, the health risks between genetically modified crops and normal plants did not differ significantly. That significantly shows that no one has been getting chronic diseases from GMO's, rather, obesity-related chronic diseases have been caused due to chronic over-nutrition. Saturated fats are also the source of high risk of developing cardiovascular diseases, which are the leading cause of death for both men and women. 
Dietitians are concerned that protein-based diets, in particular, are too narrowly focused. They think that plant-based burgers are intended to imitate animal burgers' "protein content". But for your health, that's a dangerous way to think.
Recommended Protein Dietary Allowance
0.8 grams of protein per kg (body weight) per day or 64 g of protein for person of 177 lbs
1.5 grams of protein per kg per day 
1.0 grams of protein per kg (body weight) per day
Generally speaking, too much protein consumed is much too common, putting people at risk for metabolic burdens on their bodies, kidneys and liver, as well as an increased risk for coronary heart disease by ingestion of saturated fat and cholesterols, and even cancer at levels above the recommended dietary allowance (with high intake of meat and meat analog). People consume protein excessively and contribute to the danger of chronic diseases.
There are a lot of healthy vegan burgers on the market. The Beyond Burger is also one of those for its effect on the sustainable diet.
If people wish to start eating a vegetarian diet or perhaps they want to try a vegan diet, the new meatier burgers really are great stuff to get people to understand how they can plan their meals. 
When you go to buy plant-sourced meat, always look for the ones with the smallest saturated fat and a good protein source. To substitute an ounce of real meat, you have to get seven grams of vegetable-based meat. But it's even better to have 14 grams [the recommended daily intake]. Also try to keep sodium below 20 percent.