Stripping naturalized Americans of their citizenship is nothing new, but Hoda Muthana's birthright claim isn't easy.
---
The unusual case of an Alabama college student who was stripped of citizenship and denied re-entry to the United States after joining the Islamic State is raising concerns across the political spectrum.
Throughout February, the U.S. government has insisted that Hoda Muthana has no legal right to return to the United States.
Muthana, writes The Atlantic, was born in New Jersey and raised in the South. While her father described her as religious, he was also afraid she might have started dating after beginning college. Nobody expected that, in 2014, Muthana would withdraw from the University of Alabama and make her to ISIS-controlled territory in Syria.
At its peak, the self-proclaimed caliphate controlled a swath of land the size of Great Britain. Today, its territorial holdings have all but disappeared.
With ISIS on the verge of physical collapse, Muthana now lives in a refugee camp with her eighteen-month old son. She's repeatedly petitioned the U.S. government to let her return home. But high-ranking officials, who've become entangled in Muthana's repatriation, say she has no legal standing to call herself an American.
"Ms. Hoda Muthana is not a U.S. citizen and will not be admitted to the United States," Secretary of State Mike Pompeo said last week. "She does not have any legal basis, no valid U.S. passport, no right to a passport nor any visa to travel to the United States."
Pompeo's claims have been backed by President Donald Trump, who tweeted that he's "instructed" the secretary of state to "not allow Huda Muthana back into the Country."
Muthana's case, reports The Atlantic, raises broad and pressing questions over what protections citizens are entitled to overseas. While almost all of the 59 American men who fought for ISIS in Iraq and Syria have been successfully repatriated, 13 American women and children have not.
Conservative news media, politicians and pundits advocate leaving Muthana in Syria. Most, like Fox News and The Washington Examiner, seen ambivalent to the legal, constitutional ramifications of stripping a natural-born citizen of their nationality.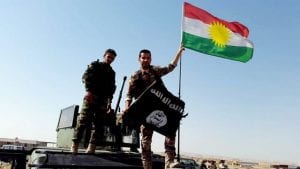 The Trump administration has at least attempted to ground its decision in legalese, claiming that Muthana is exempted from birthright citizenship because her father once worked as a diplomat.
Children of foreign agents—parents working in and for an overseas embassy, for instance—aren't entitled to birthright citizenship the same as others.
In response, the Muthana family has filed a lawsuit against the administration. An attorney for the family, Hassan Shibly, said the White House's position misses nuances and misinterprets reality.
"The Trump administration continues its attempts to wrongfully strip citizens of their citizenship," Shibly told AL.com last week. "Hoda Muthana had a valid U.S. passport and is a citizen. She was born in Hackensack, NJ in October 1994, months after her father stopped being a diplomat."
While the United States has a long history of stripping individuals of their citizenship, the Atlantic says Muthana's case is different because it marks the first time the government has retroactively revoked the status. And it's not just Trump, either: efforts to keep the woman from returning were initiated by the Obama administration, but have escalated now that Muthana has publicly asked to come back.
According to The Atlantic, the Muthana family's lawsuit could have dire consequences. If the White House continues to argue that she isn't a citizen because of her father's disputed status as a diplomat, then the dispute's impact will be limited.
However, The Atlantic suggests there could be major repercussions if the Trump administration claims the right to deny an American citizen re-entry to the United States, no matter the circumstances of their departure. As an immigration attorney told Atlantic staff writer Krishnadev Calamur, barring Muthana lets her effectively escape the legal consequences of her decision to aid and abet an overseas terror organization.
Muthana herself seems to acknowledge that coming home will probably be accompanied by prosecution.
"I ruined my life," she told the New York Times. "I ruined my future."
Sources
Hoda Muthana not a U.S. citizen, says Secretary of State Mike Pompeo
How do we know ISIS bride Hoda Muthana isn't still working for the group?
'ISIS bride' Hoda Muthana was an ISIS propagandist, not some brainwashed child