Widow of Army vet is ready to sue over her husband's missed stomach cancer, but the Feres Doctrine will likely ensure her case never makes it to trial.
---
Cheryl Seals, widow of a soldier whose stomach cancer was allegedly overlooked by Army doctors for four years, has filed a medical malpractice lawsuit against the military with the help of Whistleblower Law Firm, but due to a legal rule known as the Feres Doctrine, her case will likely be dismissed before it goes to trial.  The Feres Doctrine, a 1950 Supreme Court ruling that bars service members from suing the government for negligence or wrongdoing.
After Cheryl and Jeremy married in 2006, Cheryl recalled, "We were having a hard time making ends meet and he looks at me and goes, 'Hey honey, what do you think about me joining the military?'  And I went, 'My home is wherever you are.  Let's go.  Whatever you want to do, let's do it.'  So, he joined the military at age 34.  He graduated basic training the same day he turned 35."
In March 2008, Jeremy enlisted in the Army as an information technology specialist.  "We didn't know that ten years later, when he was 45, that it would take his life," Seals recalled.
On Nov. 19, 2012, Jeremy visited NATO's Supreme Headquarters Allied Powers Europe (SHAPE)'s health facility in Belgium after experiencing abdominal pains during physical training.  A CT-scan revealed he had a hernia.  The same scan also showed a mass, which according to documents, was never discussed with either Cheryl or her husband.  Jeremy's medical records were later obtained by Seals and included a note indicating "further evaluation was needed."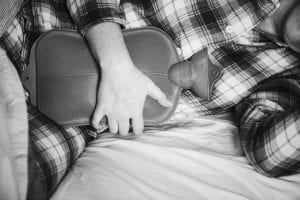 On Dec. 5, 2012, Jeremy underwent surgery for the hernia at Landstuhl Regional Medical Center in Germany.  By November 2013, he was headed home to Kentucky.
"He keeps going, 'Guys, there's something not right.  I'm getting pain.'" Seals remembered. "They'd tell him, 'Oh, it's just phantom pains from the hernia surgery."
In April 2016, shortly before Jeremy was set to leave the Army, he was hospitalized for five days due to a bowel obstruction.
"I told the doctors at Blanchfield Army Community Hospital that 'he had his hernia surgery, please read all of his notes,'" Seals continued. "We leave, and we have the feeling something's not right."  She added, "[While at Blanchfield], they did a nasogastric tube and basically pumped the entire contents of his system back out through his nose.  He had a bowel obstruction.  He was hospitalized for five days, they didn't run tests.  They just patted him on the head like, 'Okay, well, you're about to be out the Army, so there's nothing else we can do.  Follow up later with private insurance.'"
By April 19, Jeremy had finished his active duty service in the Army and enlisted in the National Guard.  He was then diagnosed with stage 2 stomach cancer by the VA's Tennessee Valley Healthcare System on Sept. 12, 2016.  Then, on October 3rd, as he was being given a catheter port for chemotherapy, VA care providers determined the cancer was actually stage 4.
"There really wasn't anything they can do at that point," Seals said.  "He had chemo every week to every two weeks for roughly two years."
Before Jeremy's death on Oct. 31, 2018, Seals filed a claim regarding his missed stomach cancer with the Judge Advocate General at Fort Campbell.  Yet, experts have said simply easier for the court system to maintain the status quo rather than repealing the Feres Doctrine.
"Though occasionally justices have wrung their hands and said this is terrible, and members of Congress have had constituents banging on their door with really heart wrenching stories that are infuriating, that's not what gets the entire House or Senate leadership to spring into action," Eugene R. Fidell, who teaches military law at Yale Law School, said, adding, "It hasn't happened yet…It's the same story. Somebody comes forward and gets the attention of someone in the blogosphere or the traditional media, and there's a little blip of interest, and then it fades. It's really a scandal."
Sources:
The Army allegedly missed this soldier's stomach cancer for 4 years. His widow wants someone to answer for it
'It's A Scandal' — Inside The Fight To Hold The Military Accountable For Medical Malpractice