As more businesses adopt hybrid and remote work policies, some are worried it may case a rise in gender inequality.
---
What will the workplace look like when COVID is over? Unfortunately, some experts predict an increasing rise in gender inequality, especially as many employers begin offering fully remote and hybrid work arrangements. Businesses who opt for this route will have to be more diligent to make sure these new post-COVID workplace policies don't disadvantage female workers.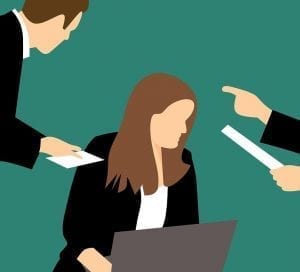 In the past, women were more likely than men to request flexible work schedules, especially if they were caring for children. The COVID-18 pandemic forced businesses to shift to a fully remote work arrangement for all employees
, and now, 15 months in, signs that these arrangements may become permanent in some industries are already coming to light. In fact, some government officials around the world are even considering legislating to make homeworking the 'default' option.
Many employees enjoyed this new arrangement. For many, it meant they wouldn't have to embark on long commutes to and from the office. They could spend more time with their families and help their children with school work. In fact, in the beginning, some even hoped that the new shift to remote work would help remove the gender divide and lessen the 'maternity penalty.' Unfortunately, that doesn't seem to be the case anymore. 
Now, employment experts are sounding the alarm that the hybrid work model that many businesses are leaning toward could end up having "unintended consequences for gender equality." When commenting on the matter, Professor Cary Cooper, a psychologist from Alliance Manchester Business School, said:
"Employers now see that employees don't have to show face time…The big question we don't have the answer to is, during these 15 months, have enough men said to themselves life isn't just about work. Did they begin to reprioritize and understand how important the family is?"
Cooper believes that to avoid gender inequality in the workplace, more men would have to agree to a flexible work schedule. He said, "If they don't, then we have a problem, as women will be working substantially from home and the men will go in more days a week than the women, and that will adversely affect their career."
Joeli Brearley is one of the many women across the country worried about how the post-COVID-era may discriminate against women. Brearley works as the founder of Pregnant Then Screwed, a charity that supports women "facing maternity or pregnancy discrimination." She said, "Those with caring responsibilities or with disabilities will tend to stay at home and other employees will likely go into the office…Those at home will look like they're less committed to their job, they won't have as a good a relationship with their manager, the person that can promote them and give them a pay rise."
Clearly, there is much to be sorted out in the coming months. It will be interesting to see how much the workplace transforms to accommodate these workplace changes. 
Sources:
Switch to more home working after Covid 'will make gender inequality worse'