A new study suggests that a children and adolescents iare dying from opioid overdoses at startling rates.  Between 1999 to 2016, the mortality rate for youth and adolescents due to opioid ingestion nearly tripled.
---
A new study suggests that a growing number of children and adolescents in the United States are dying from opioid overdoses.  Nearly 9,000 pediatric deaths were attributed to opioids from 1999 to 2016, according to a report published this month in JAMA Network Open.  In that span of time, the mortality rate for youth and adolescents due to opioid ingestion nearly tripled.
The authors wrote, "We conducted a retrospective analysis of serial cross-sectional data available from the Centers for Disease Control and Prevention (CDC) Wide-Ranging Online Data for Epidemiologic Research (WONDER) database, which compiles county-level mortality data from all US death certificates from the National Center for Health Statistics."  They added, "What began more than two decades ago as a public health problem primarily among young and middle-aged white males is now an epidemic of prescription and illicit opioid abuse that is taking a toll on all segments of U.S. society, including the pediatric population….Millions of children and adolescents are now routinely exposed in their homes, schools and communities to these potent and addictive drugs."
Earlier research published this year in journal Pediatrics suggested that the number of children admitted to hospitals for opioid overdoses nearly doubled from 2004 to 2015.  Of the 8,986 children and adolescents who died, 6,567 (about 73%) were male and 7,921 (about 88%) were adolescents ranging in age from 15 to 19.   Close to 7% of these deaths were children ages zero to 4, about 4% were 10 to 14 and about 1% were ages 5 to 9.  Unfortunately, many infants are born already addicted or are given addictive medications at home by their caregivers.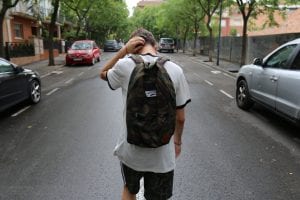 Non-Hispanic white youth users made up the majority of those who died – roughly 80%. The researchers wrote, "Among all children and adolescents, 7263 deaths (80.8%) were unintentional, while 445 (5.0%) and 219 (2.4%) were attributed to suicide and homicide."
They also indicated, "In the oldest age group, we also examined deaths involving 1 or more prescription or illicit substances…The agents included benzodiazepines, cocaine, alcohol, antidepressants, psychostimulants, cannabis, antipsychotics/neuroleptics, and barbiturates."
Heroin killed nearly 1,900 (about 24%) of users ages 15 to 19.  It is common for youth to become addicted to opioids after prescription use, then transition to heroin when their supply runs out or they can no longer afford legal options.  And, it is often much cheaper to purchase heroin on the streets than to keep refilling prescription pills.
Where children and adolescents died was also examined.  The study's authors concluded the majority of deaths occurred outside of a hospital setting, with 38% occurring in homes.  They referenced on data from death certificates, and alluded to the limitations of such data.
The researchers feel the issue will likely grow "unless legislators, public health officials, clinicians and parents take a wider view of the opioid crisis and implement protective measures that are pediatric-specific and family-centered," they wrote.   The focus to date has largely been on the general population rather than targeting demographic populations.  Focusing on specific groups will help ensure the effectiveness and sustainability of proposed strategies.  The study serves to shed light on the importance of considering subgroups affected by the crisis.
Sources:
Opioids are killing more children and teens, too, study says
US National Trends in Pediatric Deaths From Prescription and Illicit Opioids, 1999-2016