A healthy teen is placed into a medically-induced coma after vaping and wants to start an anti-vaping campaign.
---
A teen put into a medically-induced coma for vaping recently shared her story.  Simah Herman said, "I didn't think of myself as a smoker" because she was not smoking cigarettes.  And, yet, vaping had devastating effects.  It started last month when Herman was rushed to Los Angeles' Ronald Reagan UCLA Medical Center by her father, unable to breathe.
"I just remember feeling like absolute…nothing.  Like I just couldn't do anything," Herman, 18, said. "I couldn't drink water.  I couldn't move.  Like, I literally just wanted to crawl out of my skin."
On the day of her arrival, an X-ray revealed white, fuzzy areas at the base of her lungs, which her pulmonologist, Dr. Kathryn Melamed, said could be associated with pneumonia.  Then, less than 48 hours later, chest X-rays showed that her lungs were filled with white.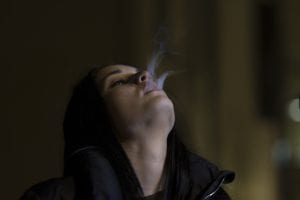 Melamed said, "My best guess since we're still learning about what is really going on in the lungs is [it's a] profound inflammatory reaction to the vape products or some…component of the vape products."
Herman had to be put on a ventilator after not being able to breathe for two days, then put into a medically-induced coma.  While she was unconscious, her cousin revealed a secret to her parents.  She told Simah's mother, Stacy Herman, "You know she smokes every day?'"  Stacy recalled, "I said, 'What?  What are you talking about?' And she said, 'She smokes every day.  She smokes that vape.'  I said, 'You tell the doctors right now. You go tell the doctors right now.'"
By the time that Herman had emerged from her coma, she had been in the hospital for five days. She said she started vaping at age 15 and would vape every 10 to 15 minutes.  Still on a ventilator, she decided to become an advocate against vaping.
"I asked for, like, a pen and paper because that was the only way I could communicate," Simah Herman said. "And I wrote, 'I want to start a no-vaping campaign.' That was the first thing I did when I opened my eyes."
As of mid-September, there have been six confirmed deaths and over 450 cases of lung issues in 33 states associated with e-cigarette products, according to the Centers for Disease Control and Prevention (CDC).  Among high school students, there was a 78% increase in e-cigarette use between 2017 and 2018, according to the Food and Drug Administration's (FDA) National Youth Tobacco Survey.
Just this month, the FDA sent a warning letter to Juul, the industry leader for vape products, accusing it of illegally marketing its nicotine vape products as safer than traditional cigarettes without proof.  Juul said it was "reviewing the FDA letter" and that it would "fully cooperate," adding, "We share these concerns about youth vaping, which is why we have taken the most aggressive actions of anyone in the industry to combat youth usage…Most recently, we announced the deployment of technology at retail stores that automatically restricts the sale of JUUL products until a government-issued ID is electronically scanned to verify age and ID validity.  This technology also limits the amount of JUUL products that can be purchased to prevent reselling or sharing to those underage, and it will soon be mandatory for all JUUL product sales across the country."
Sources:
Teen who was put on life-support for vaping says 'I didn't think of myself as a smoker'