An episode on the legal implications of blockchain technology sparked a shift in our company's approach to data privacy. ~ David Kemmerer, Co-founder and CEO, CoinLedger
---
We asked 25 business leaders and legal professionals to share their favorite business and legal podcasts and the reasons why they love them. From How I Built This to Sticky Lawyers, discover the top podcasts that these experts listen to and why they find them valuable.
How I Built This
Masters of Scale
The Legal Geeks
Without Fail
The Lawfare Podcast
Planet Money
LawNext
Acquisitions Anonymous
Startups for the Rest of Us
Above the Law – Thinking Like a Lawyer
Entrepreneur on Fire
The Rachel Hollis Podcast
Mind Your Business
Wisdom from the Top
Technically Legal
The Smart Passive Income Online Business and Blogging Podcast
Serial
Business Law Talks
The Game w/ Alex Hormozi
Outside/In
The Legal Babe
Revenue Vitals
HBR IdeaCast
Law Entrepreneur
Sticky Lawyers
---
How I Built This
There are many great podcasts for business, but one that stands out is "How I Built This" by NPR. This podcast features interviews with entrepreneurs and business leaders who have built successful companies from the ground up, including companies like Airbnb, Spanx, and Patagonia. 
Each episode explores the story behind a different company, from the early challenges and setbacks to the key decisions and breakthrough moments that led to success. Listeners can gain valuable insights into the entrepreneurial mindset, learn about different business models and strategies, and hear inspiring stories of perseverance and innovation. 
The podcast also offers practical advice for entrepreneurs and business leaders, such as tips on fundraising, hiring, and managing growth.
Robert Reder, Attorney, Blythe Grace PLLC
Masters of Scale
This podcast is full of helpful advice from CEOs of major companies like Starbucks, Nike, and more. The host touches on every aspect of growth, including management, strategy, and more, dispelling the myth of the "overnight success."
I love that he doesn't just focus on the good, talking about learning, setbacks, and failures to give more realistic insights rather than a view of entrepreneurship through rose-colored glasses. It's important to remember that it doesn't always work out, but there is still an invaluable lesson.
Denise Hemke, Chief Product Officer, Checkr
The Legal Geeks
I really enjoy "The Legal Geeks" podcast, which is a show that explores the intersection of law and popular culture. I enjoy it because the podcast takes a unique approach to analyzing legal issues by examining various movies, TV shows, comics, and other forms of entertainment.
In each episode, the two hosts, attorneys Jessica Mederson and Joshua Gilliland, delve into specific pop culture phenomena and discuss the legal aspects portrayed in them. They examine how legal concepts and principles are depicted, whether accurately or with creative license, and provide insightful commentary on the implications.
Aaron Winston, Strategy Director, Express Legal Funding
Without Fail
Every Monday, I listen to Alex's Podcast titled "Without Fail," as it humbles me. There are more practical reasons attached to it, but this comes out as the predominant one. Whether you are a new or experienced business owner, a tricky situation is always tough to handle. You might map out possible solutions to escape the consequences and try some of them out. 
But, wouldn't we all like a guide to direct us? That is how this podcast comes into the picture. He gives us experiences of businesses that failed or risked too much. This is followed by discussions to escape such a situation if it occurs in the future. It might be something we have already done or never heard of before. 
However, I like it for two particular reasons. First, it is easier to know others face the same situation. Second, the possibility of a solution being there for everyone. It helps me uplift my mood and bring a better and more refined focus to my business.
Marc Hardgrove, CEO, TheHOTH
The Lawfare Podcast
"The Lawfare Podcast" is a legal and policy analysis podcast that covers a wide range of national security concerns, foreign policy, and constitutional law. It includes in-depth talks with prominent experts, professors, and practitioners in these domains, making it a must-read for everyone interested in the nexus of law, politics, and national security. 
What distinguishes "The Lawfare Podcast" is its dedication to offering in-depth study of complicated legal and policy issues. The talks go beyond simple explanations and delve into the subtleties and consequences of legal judgments, legislation, and policy changes. The hosts facilitate intelligent discussions, allowing guests to share professional views and varied points of view. 
As someone who is interested in the law and how it affects society, this podcast keeps me up to date on key legal issues, court rulings, and developing policy discussions.
Timothy Allen, Sr. Corporate Investigator, Corporate Investigation Consulting
Planet Money
"Planet Money" has become my go-to podcast for business and legal topics. I love how it presents economic and business news in a captivating and relatable way, making complex concepts easy to grasp.
The storytelling approach of the podcast inspires me to create engaging narratives in my explainer videos. What I appreciate the most is that "Planet Money" goes beyond traditional business discussions and explores the intersection of law and economics, keeping me informed about legal trends that could impact my industry. 
Overall, it's an invaluable resource that not only informs me but also sparks my creativity as a business owner.
Andre Oentoro, Founder/CEO, Breadnbeyond
LawNext
My go-to legal podcast is definitely "LawNext" hosted by Bob Ambrogi. This podcast is a treasure trove of insights for anyone interested in the law and the future of the legal industry.
One thing that stands out about "LawNext" is the quality of the guests. Ambrogi consistently brings on innovators and entrepreneurs who are driving change within the legal field, which means that listeners are always on the cutting edge of what's happening.
But what really sets it apart for me is how it delves into the intersection of law and technology, examining how the latter is shaping and disrupting traditional legal frameworks.
In addition, the variety of topics covered—from legal practice management to legal tech—keeps it engaging and relevant. It doesn't just equip me with knowledge, it also challenges my thinking. That's why "LawNext" is my favorite legal podcast.
Will Gill, Event Entertainer, DJ Will Gill
Acquisitions Anonymous
"Acquisitions Anonymous" is a current favorite in my podcast queue. The show is hosted by experienced business buyers and financiers. Each show, they review a single deal, either publicly listed or suggested by listeners. 
In the review, they walk through the pros and cons of each deal. No business is perfect, and each one comes with its share of operational, capital, or legal challenges. The hosts have a great sense of humor, and I always come away having learned something.
Trevor Ewen, COO, QBench
Startups for the Rest of Us
"Startups for the Rest of Us" is a must-listen for anyone interested in business and entrepreneurship. The podcast stands out for its emphasis on helping those outside the venture capital and high-growth startup world, hence the name "for the Rest of Us." 
The show covers a wide range of topics, including product development, marketing, customer acquisition, and bootstrapping strategies. Rob Walling (the host) brings a wealth of experience and knowledge, making the podcast valuable for startup enthusiasts looking for actionable guidance and inspiration.
Josh Amishav, Founder and CEO, Breachsense
Above the Law – Thinking Like a Lawyer
My favorite business/legal podcast is "Above the Law – Thinking Like a Lawyer." This podcast gives me access to experienced lawyers and experts from all walks of life. It provides insights on different areas related to law and business. The content is informative, engaging, and relevant, making it a great resource for those interested in the legal field. 
Additionally, the hosts are personable and create easy-to-follow conversations that make you feel like part of the podcast itself. They make it easy to stay up-to-date with the most important developments in law and business, while also providing practical advice for navigating the complexities of the legal world. 
Overall, this podcast has been an invaluable resource for me, and I highly recommend it to anyone interested in staying informed on business/legal matters.
Amira Irfan, Founder and CEO, A Self Guru
Entrepreneur on Fire
My favorite business/legal podcast is "Entrepreneur on Fire" with John Lee Dumas. I love this podcast because it features interviews with successful entrepreneurs who share their experiences and insights into building and running a successful business. The guests are from a wide range of industries, so there is always something new to learn, regardless of what field you are in. 
Additionally, the interviews are concise and informative, making it easy to fit into a busy schedule. Overall, "Entrepreneur on Fire" provides valuable knowledge and inspiration for anyone looking to start or grow their own business.
Basana Saha, Founder, KidsCareIdeas
The Rachel Holls Podcast
As a seasoned health journalist, I enjoy diving into subjects beyond my field, which is why my favorite podcast is "The Rachel Hollis Podcast." The blend of business acumen and personal development guidance offered in each episode is incredibly enriching. 
An episode that resonates with me is #115, "Three Strategies to Overcome Your Fear of Failure". It dives into real-world strategies to conquer fear, using it as a stepping-stone rather than a stumbling block. 
One statistic that was highlighted—80% of businesses fail within the first 18 months, struck me. Rather than interpreting this as a deterrent, Hollis unpacked this number to reveal the common pitfalls businesses encounter and offered actionable strategies to overcome them. It's this mix of data-driven advice and personal touch that makes her podcast a standout.
Nadzeya Sankovich, Senior Journalist, Health Reporter
Mind Your Business
I never miss an episode of James Wedmore's "Mind Your Business" Podcast. Your self-improvement and desire to grow as a leader don't just stop when you become a CEO. Developing your leadership and communication skills should be an ongoing process. I like James because part of his whole spiel is that you really can harness your own inner strength to be successful.
While his show is always informed about current and emerging business trends, he also puts a lot of his focus on mindset, and how to utilize your mindset to manifest your reality, without being too woo-woo. The mix of this type of content, combined with the fact that he regularly interviews industry leaders across all fields, makes it educational and enjoyable.
Kathy Bennett, CEO and Founder, Bennett Packaging
Wisdom from the Top
"Wisdom from the Top" hosted by Guy Raz is my current favorite, overtaking—wait for it, his other podcast "How I Built This."
It's easy to see why this is so popular. A lot of podcasts are only as good as their guests.
But Guy's questions, probing, and easy-going nature ekes out more than you would think and can turn even the driest subject, and dare I say it—guest, into an enthralling hour.
The celebrity guests are usually great, but it's the unknown (to me, anyhow) business leaders that give me the most satisfaction. It's not all grandiose and hubris; the biggest lessons learned and given are from tales of their failure.
While it pays to take inspiration from success stories, we live and learn so much more from missteps and wrong decisions. It's like having a mentor in my ear, guiding me to become a better business version of myself and hopefully avoiding any similar-themed mistakes that the businessmen unselfishly share.
Sean Coffey, Marketing Manager, Regency Fire
Technically Legal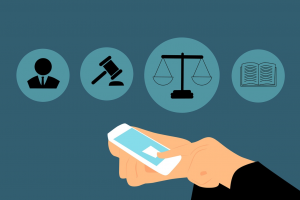 This podcast delves into the crossroads of law, technology, and innovation, featuring interviews with pioneers who are reshaping the legal industry. It's hosted by Chad Main, a seasoned attorney, and tech-savvy entrepreneur; the show provides me with invaluable insights into the tech-law landscape.
Given my field of work, I find myself particularly drawn to episodes featuring crypto attorneys, but the podcast's exploration of cybersecurity, big data, and automation has broadened my understanding. 
For instance, an episode on the legal implications of blockchain technology sparked a shift in our company's approach to data privacy. Leveraging the knowledge gained, we've significantly bolstered the security and compliance aspects of our software.
David Kemmerer, Co-founder and CEO, CoinLedger
The Smart Passive Income Online Business and Blogging Podcast
I find "The Smart Passive Income Online Business and Blogging Podcast" to be a valuable resource for business and legal insights. Hosted by Pat Flynn, it offers a unique blend of practical tips, inspirational stories, and expert interviews. The podcast covers a wide range of topics, including entrepreneurship, online marketing, passive income, and legal considerations for online businesses.
I appreciate how Pat Flynn combines his own experiences with those of his guests to provide actionable advice. The podcast's engaging format and emphasis on real-world examples make it an enjoyable and informative listen for anyone interested in building a successful online business while staying legally compliant.
Vikas Kaushik, CEO, TechAhead
Serial
"Serial" is a podcast that has revolutionized the audio narrative landscape with its serialized format of captivating investigative journalism. The podcast focuses on a true crime story or examines complicated storylines each season, methodically investigating and presenting the facts in a fascinating manner.
 "Serial"'s ability to lure listeners into a story keeps me hooked. The hosts describe events using interviews, archive audio, and narration. The podcast has the sensation of a fascinating documentary due to the rigorous research and attention to detail.
 The "Serial" storytelling method has altered the podcasting environment and spawned a new wave of narrative-driven programming. This podcast provides me with insights into the criminal justice system, the intricacy of legal issues, and the impact they have on individuals and communities as someone interested in legal and investigative aspects.
Cindi Keller, Communications Coordinator, The Criminal Defense Firm
Business Law Talks
My favorite podcast is the "Business Law Talks" by Bennett Jones. The reason I'm drawn to this podcast is its well-articulated blend of business and legal perspectives, which makes complex concepts more accessible to a broader audience. 
For instance, in one episode, they dissected the legal implications of email marketing, which directly impacted my business. They discussed a case where a company faced a hefty fine—$1.5 million to be precise—for non-compliance with the CAN-SPAM Act. Bennett then provided some advice on how to avoid such pitfalls. 
That episode alone led to a comprehensive review and subsequent upgrade of our agency's email marketing practices, ensuring our adherence to the law and reducing potential risks.
Josh "Snow" Elizetxe, Founder, Customer Feedback
The Game w/ Alex Hormozi
My favorite podcast is "The Game w/ Alex Hormozi." I enjoy this podcast because it provides valuable insights into entrepreneurship and business growth. 
The host, Alex Hormozi, shares practical advice and real-life experiences that resonate with me as an entrepreneur. The guests on the show offer diverse perspectives and actionable strategies, which I find inspiring and helpful in navigating the challenges of running a business. 
Overall, "The Game" has become a go-to resource for me to stay informed, learn new concepts, and stay motivated on my entrepreneurial journey.
Irina Poddubnaia, CEO, Founder, TrackMage
Outside/In
There is no doubt that the customer experience is one of the driving factors for the growth of a company. This particular podcast meets the target aptly. The host discusses the ins and outs of some of the biggest customer-oriented brands, including the less-known information. 
He also brings in prominent industry professionals to discuss the customer being the priority culture. I find it to be quite refreshing because of the divergent point of view discussing the same end goal. It is enlightening to know the multiple solutions and outcomes. 
This has helped me decide on many factors within the organization as the Chief Underwriting Officer. I especially appreciate them making a distinction between theoretical and actionable goals.
Marco Andolfatto, Chief Underwriting Officer, Apollo Cover
The Legal Babe
"The Legal Babe" by Natalie Puglisi explains law and business as easy as 123s. The podcast is typically in short form, making it easily digestible. It avoids information overload, especially for beginner business owners like me who are still getting familiar with the basics of business law. 
Natalie is so generous in sharing her wisdom, pulling from over ten years of experience helping entrepreneurs with their business woes. She covers topics that most, if not all, small business owners will encounter sooner or later.
Khris Steven, Owner and Marketer, KhrisDigital
Revenue Vitals
"Revenue Vitals" by Chris Walker is my top podcast recommendation. Its deep insights into demand creation were key during my tenure at Lokavant, an enterprise SaaS startup where traditional cold outreach fell short. These teachings now serve as the backbone for my consulting business, Zendog Labs, proving incredibly valuable as we explore moving "upmarket," a space Chris is familiar with.
Notable mentions also include The Game by Alex Hormozi and Acquired by Ben Gilbert and David Rosenthal. Alex provides expert knowledge on sales funnels and the importance of gross margins, along with uplifting guidance for entrepreneurs. Acquired delves into exceptional business stories, demonstrating the exciting potential of entrepreneurship.
Rafael Sarim Özdemir, Founder and CEO, Zendog Labs
HBR IdeaCast
The "HBR IdeaCast" is a podcast created by Harvard Business Review that contains interviews with notable business thinkers and professionals. This podcast interests me because it offers thought-provoking views and analyses on a variety of issues such as leadership, management, innovation, and strategy. 
What I like about the "HBR IdeaCast" is its capacity to bridge the gap between academic research and practical implementation. Business and management trends and ideas are discussed using research and real-world examples. The guests frequently question conventional thought and provide new insights, stimulating new ideas and ways of thinking. 
As someone who is interested in staying current in business and management, the "HBR IdeaCast" keeps me up to date on the newest trends, studies, and tactics. It enables me to think critically about various facets of business and provides vital insights that I can apply to my own professional endeavors.
Tiffany Hafler, Marketing Coordinator, Blockchain Lawyer
Law Entrepreneur
I love the "Law Entrepreneur" podcast because it offers important insights and advice for lawyers looking to start their own businesses. Host Jason Blumer interviews experienced legal entrepreneurs, makers of legal technology, and experts in running a small law firm. 
He covers topics such as setting up a business model, marketing, customer service, team-building, finance, and more. I found this podcast very useful and inspiring for my own journey as a legal entrepreneur.
Darryl Stevens, CEO, Digitech Web Design
Sticky Lawyers
The "Sticky Lawyers" podcast is one of my favorites. The host, John Reed, always has interesting conversations with lawyers that are sometimes in uncommon areas of law. 
Some of his guests have included a video game lawyer, election lawyer, and even a divorce lawyer that focuses on celebrity clients. It's always interesting to hear how these attorneys built their practice and what self-promotion tactics they've used, which can sometimes give us ideas that we can offer to our clients.
Jason Bland, Co-founder, Custom Legal Marketing