A young mother was wrongfully diagnosed with an aggressive form of breast cancer.
---
Sara Boyle of England was misdiagnosed with an invasive form of breast cancer which caused her to go through extended treatments and surgical procedures including chemotherapy and a double mastectomy.  She should have never had to go through any of it and is struggling to understand how she was diagnosed with the aggressive cancer when it was never, in fact, in her body at all.  Boyle is claiming she has been "unnecessarily traumatized."
"Being told I had cancer was awful, but then to go through all of the treatment and surgery, to then be told it was unnecessary was traumatizing," she said.
The whole mind-boggling ordeal began in 2016 when Boyle, only 25 at the time and a mother of an infant boy, was having a hard time breastfeeding her six-month-old son, Teddy.  She had started to notice signs that Teddy was "very distressed," she recalled, specifically when she attempted to feed him from the right side.  She decided to head to Royal Stoke Hospital in England where she underwent a biopsy and scan. Physicians at the hospital subsequently diagnosed her with triple-negative breast cancer and immediately sent her to chemo.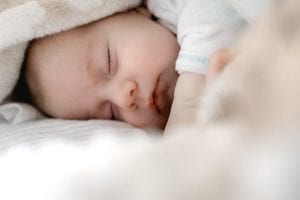 Boyle eventually underwent a double mastectomy (in which both breasts are removed) and later, reconstructive surgery.  She was told by her doctors that the cancer treatment could affect her fertility.
It wasn't until a year later, in July 2017, that Boyle's doctor told the mother of one she was misdiagnosed.  The biopsy sample had been incorrectly recorded by staff.  University Hospital of North Midlands NHS Trust, the parent company for Royal Stokes Hospital, issued an apology and revealed that the misdiagnosis was due to a "human error."  Since the problem was discovered, a second pathologist must review all potential cancer diagnoses.
"A misdiagnosis of this kind is exceptionally rare, and we understand how devastating this has been for Sarah and her family," a hospital spokesperson said. "Ultimately the misreporting of the biopsy was a human error so as an extra safeguard all invasive cancer diagnoses are now reviewed by a second pathologist."
Boyle, now 28, was able to conceive again and has since bought son Louis into the world with the unconditional support of her husband Stephen, 31.
"The past few years have been incredibly difficult for me and my family," Boyle said. "While I was delighted when I gave birth to Louis [born Dec. 2018], it was really heartbreaking when I couldn't breastfeed him."  She remains anxious about her future, saying, "As if [being unable to breastfeed] wasn't bad enough, I am now worried about the possibility of actually developing cancer in the future because of the type of implants I have.  I am also worried about complications that I may face because of my chemotherapy."
Boyle and her attorneys are now pursuing legal action against University Hospital of North Midlands NHS Trust, which has admitted liability.  Sarah Sharples, an attorney from Irwin Mitchell Solicitors representing Boyle, said, "This is a truly shocking case in which a young mother has faced heartbreaking news and a grueling period of extensive treatment, only to be told that it was not necessary.  The entire experience has had a huge impact on Sarah in many ways."
Sources:
She Was Misdiagnosed with Breast Cancer after Undergoing Double Mastectomy
Mother wrongly diagnosed with breast cancer has double mastectomy before doctors realise their mistake