Hundreds of U.S. Veterans are suing 3M Co. over allegations the company knowingly manufactured and sold defective earplugs, resulting in hearing loss and other issues for veterans.
---
Earlier this week, hundreds of U.S. Veterans filed lawsuits against 3M Co. over allegations the company manufactured and sold defective combat earplugs for years. The U.S. Government first entered into a contract with the company in 2006. As part of the contract, 3M Co. supplied "an estimated annual quantity of 15,000 earplug packages with 50 pairs per package, at a guaranteed price of about $9 million in sales for the year," according to the suit.
What was wrong with the earplugs, though? How were they defective? Well, according to the suit, the earplugs failed to "maintain a tight seal and allowed dangerous loud sounds to slip through without the wearer knowing." It turns out, the earplugs are "too short to be inserted properly," which means the earplugs failed to block out "impulsive sounds such as gunfire or machinery under 190 decibels."
As a result, the earplugs have allegedly "resulted in hearing loss and loss of balance in those who used the company's trademarked, dual-ended Combat Arms earplugs during their military service between 2002 and 2013." One of the most common issues many of the veterans have faced since using the earplugs is Tinnitus. The condition is known for causing "buzzing or ringing in the ears, despite there being no external sound." This never-ending "perception of sound can have physical and psychological effects, with many sufferers developing anxiety, depression and suicidal thoughts."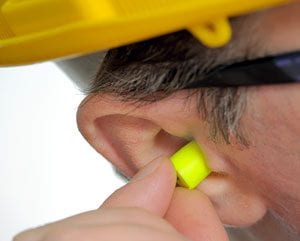 It should be noted that, according to the Occupational Safety and Health Administration (OSHA), "the use of hearing protection is required for workers exposed to 155 decibels for more than 15 minutes." It's normal for members of the military to be exposed to loud sounds ranging between 103 and 184 decibels on a near daily basis, sometimes for hours on end.
So far the lawsuits have been filed in the U.S. District Court for the Western District of Texas, Waco Division. In total, 143 suits have been filed since January 22 by two law firms, including Abraham, Watkins, Nichols, Sorrels, Agosto & Aziz and Bell, Rose & Cobos.
One of the plaintiffs who suffered hearing issues as a result of the earplugs is Eric Johnson. Johnson was stationed at Fort Drum between 1999 to 2010 and claims his hearing issues began around 2008. He said, "I noticed I couldn't wear a Walkman and hear very well and if I answered the phone I had to use my left ear because my right ear was shaky." During his retirement physical in 2010, he was informed he had severe hearing loss. He added, "now I wear two hearing aids and am totally dependent on them."
The defective earplugs were sold to the military until 2015 when the product was discontinued. However, because the earplugs weren't recalled, many were still being "used by soldiers or sold by other vendors," according to the suit. The real kicker is, many plaintiff's, including Johnson, claim 3M knew their earplugs were defective and did nothing about it. When commenting on the matter, Johnson said:
"Money isn't the focal point; the focal point is our soldiers. When we go to war, we want to know we have the best equipment. I was young when I got in, and then I left the Army and I could barely hear. All they had to do was do the right thing."
Sources:
Veterans claim defective 3M earplugs caused hearing loss, ringing in ears: "It is torture"