While the state says it reserves 'restrictive housing' for violent offenders, the ACLU claims Virginia puts inmates in solitary for offenses as petty as not shaving.
---
A federal class action lawsuit is seeking to phase out the use of solitary confinement at two of Virginia's highest-security prisons.
According to the Washington Post, the complaint was filed Monday by the American Civil Liberties Union of Virginia and the law firm White & Case. The lawsuit claims that inmates at some of the state's maximum-security facilities have suffered PTSD, weight loss and hallucinations from excessive isolation.
In some instances, prisoners were held for up to 24 years in solitary.
Aside from being potentially inhumane, the plaintiffs argue that Virginia's solitary programs are reminiscent of several the state agreed to stop using in a long-since settled class action that centered on abuses at the Mecklenburg Correctional Center in the 1970s and 1980s.
"Solitary confinement should only be used in rare and exceptional cases as a last resort," said ACLU-Virginia senior staff attorney Vishal Agraharkar. "Unfortunately, the way this program is structured, it is effectively keeping people in solitary beyond what's necessary."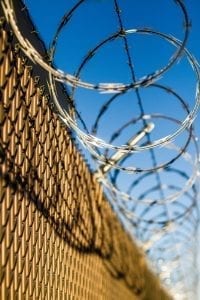 The Post notes that inmates in the class claim to have bene held in isolation for between 22 and 24 hours per day. Some say they were they subject to restrictive regimes for periods ranging from two years to 24.
Conditions are predictably grim: prisoners' rooms are little bigger than a parking space. And the lights never, ever go off.
Consequently, some inmates say they've suffered "severe physical and mental health damage."
But the Virginia Department of Corrections has repeatedly denied any systematic use of solitary confinement. Instead, the agency uses what it terms "restrictive housing" and a "step-down" program to remove some inmates from the general population and eventually re-integrate them.
In the past, department spokespersons have said their use of "restrictive housing" regimes is fair and innovative.
"The Virginia Department of Corrections serves as a national model for the limited use of restrictive housing," said DOC spokeswoman Lisa Kinney in a statement last year.
Kinney also said that inmates who spent long periods in isolation are provided reading material, telephones, out-of-cell recreation and the opportunity to attend or otherwise partake in some educational classes.
Mentally ill prisoners are supposedly not put into solitary confinement for periods of more than 30 days at a time. Other inmates are only assigned to restrictive housing if they're disruptive, violent or did something particularly heinous to land behind bars in the first place.
However, the ACLU charges that inmates have been locked up alone for petty offenses, including disrespecting staff or not being clean-shaven.
The Post notes that, last week, a U.S Court of Appeals for the 4th Circuit upheld another injunction against the Virginia Department of Corrections, which had previously held all death row prisoners in solitary confinement. While the DOC changed its policy in 2015, officials continued to fight against a lawsuit challenging the practice's constitutionality.
Sources
ACLU sues to end solitary confinement at two maximum-security prisons in Va.
Lawsuit asks to end solitary confinement in Virginia prisons
The Use of Solitary Confinement in Virginia is Inhumane and Unlawful