While Becerra isn't yet launching a formal investigation, many Catholic officials say they'll cooperate.
---
California Attorney General Xavier Becerra is launching a review of how all 12 of the state's Roman Catholic dioceses have handled allegations of child sex abuse.
Becerra, writes the Associated Press, sent out a host of letters to involved dioceses on Thursday.
The letters ask each diocese to voluntarily preserve documents relating sex abuse allegations and specific accusations. In total, the attorney general's office is concerned with any and all cases involving priests, staffers and church volunteers.
"This voluntary disclosure will enable the Attorney General, in his role as the chief law officer of the state, to ensure that the laws of the State are uniformly and adequately enforced," Becerra wrote in his letter to the Sacramento diocese.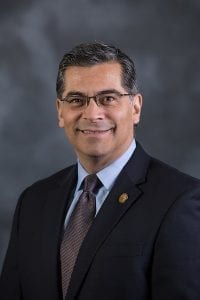 The probe—if not yet a criminal investigation—seeks to retrieve and peruse files from 1996 to the present. And six of the dioceses contacted by Becerra are legally mandated to turn over similar sets of documents to the California Department of Justice within a month.
According to the A.P., it could be the first step in a full-fledged investigation.
California's dozen dioceses serve about 10 million Catholics across the state. Sacramento diocese spokesman Kevin Eckery told the Bee that it plans to cooperate.
"We intend to comply with both the spirit and letter of what they're asking for," Eckery said.
The Archdiocese of Los Angeles also said it'd give Becerra's office what it asks for. The Associated Press notes that clergymen and church administrators in both cities claim to have taken steps to ensure child sex abuse isn't covered up, no matter the suspected perpetrator.
"Even those who are not mandated reporters are reminded of the moral obligations to be aware for the signs of child abuse and to report when there is reasonable suspicion an abuse has occurred," Sacramento Bishop Jaime Soto said in a Friday statement.
"As is our policy, we intend to cooperate with the Attorney General's request and will work out the details with them directly," Soto added.
Separately, Catholic officials in Los Angeles said they're trying to keep the church as transparent as possible.
"The Archdiocese of Los Angeles is committed to transparency and has established reporting and prevention policies and programs to protect minors and support victim-survivors in our parishes, schools and ministries," it said in a statement.
But, as the A.P. reports, the Archdiocese of Los Angeles recently paid out a record-setting $740 million in settlements to victims of local clergy abuse.
Jerry Piscitelli, a board member of the Survivors Network of those Abused by Priests, told the Sacramento Bee that cooperation sets a long-needed precedent.
"We think it's a long time coming," Piscitelli said. "We think it's a bad idea for entities that have a history of covering up child abuse to report on themselves, and that's what they've been doing. They have not been transparent in the past, and they have a history of covering things up."
Sources
Attorney General Xavier Becerra launches sex abuse audit for all Catholic dioceses in California