Do you remember when President Trump agreed to settle the lawsuit surrounding Trump University for $25 million? Well, the lawsuit "would have seen the former students receive 90 cents for every dollar that they spent," which for many would equate to a large sum of money. However, recent events have unfolded that might nix that settlement "if judges allow a woman who was part of the class action suit to pursue her own case against the billionaire over a real estate training program that folded in 2010." But what happened? Why might the settlement be in jeopardy?
For those who don't know Sherri B. Simpson, one of "3,700 former students who sued Trump over what New York Attorney General Eric Schneiderman has described as a bait-and-switch scheme," was less than pleased with the settlement and began "seeking a payout triple what others are getting and an admission of wrongdoing from Trump." If allowed to proceed, Simpson's lawsuit risks derailing the $25 million settlement completely," according to Judge Andrew Hurwitz, one of three 9th Circuit justices in the appeals court considering Simpson's case. When discussing the matter with Simpson's lawyers, Deepak Gupta, Hurwitz said, "What you are asking us to do is unravel a settlement that is fair for thousands of people because your client thinks she could've opted out."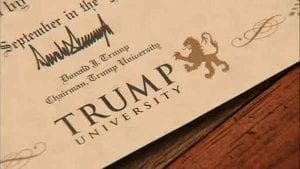 It should be noted that many of the former students named in the original lawsuit and who stand to gain a piece of the $25 million lawsuit are elderly, and "others have died waiting for their payout." So why exactly is Simpson unhappy with the settlement?
For starters, President Trump's settlement was offered in response to the litigation surrounding Trump University that first began when "two federal class-action fraud lawsuits and a parallel state court action" were brought forward by Eric Schneiderman, the New York Attorney General. The lawsuits "accused Trump U. of deceiving students by falsely claiming that Trump knew the instructors and that the school was an accredited university." Instead of being an accredited university, Trump University was a for-profit training program for those interested in learning all of Trump's "secrets to creating a real estate empire" while charging students up to $35,000 to attend. Additionally, students claim they were "cheated out of tuition through high-pressure sales tactics and misleading claims about what they would learn."
When discussing why Simpson appealed the settlement in the first place, another of her lawyers, Gary Friedman, said "the appeal was based on the argument that a San Diego federal judge who approved the settlement on March 31 erred because class members were not given a second chance to opt out of the case." He added:
"The class members had a right to opt out of the settlement. The notice they received from the court promised them in no uncertain terms they had that right. Then, once the defendant got elected president it became inconvenient to honor that promise."
In addition, Simpson would receive if she wins her case. According to Friedman, "rather than take the more than $15,000 she would get under the terms of the settlement, Simpson wants to take the president to trial individually and try for an award four times that amount or more."
Sources:
TRUMP UNIVERSITY $25M PAYOUT COULD UNRAVEL OVER WOMAN WHO WANTS MORE MONEY, APOLOGY, FROM PRESIDENT
Attorneys ask Florida woman to post a $220,000 bond in Trump University appeal
Florida woman appeals Trump University settlement, delays payout to others
Trump University student demands day in court with President
Is the Trump University Lawsuit Really Settled?
Join the Discussion