A lawsuit was recently filed against the Arkansas State Police and others after a traffic stop resulted in a pregnant driver flipping her vehicle.
---
For many women, pregnancy can be a crazy and stressful time. For one woman, in particular, life took an unexpected turn when a state trooper rammed into her vehicle, causing it to flip. According to a lawsuit filed on behalf of Janice Harper of Arkansas, she was driving along in July 2020 when a state trooper tried to stop her for speeding. Seeing no safe place to pull over, she "turned on her hazard lights and slowed down…moments later, the officer rammed her vehicle," flipping it over. She was injured as a result.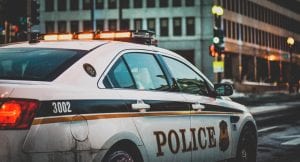 According to the Dashcam footage, Harper appeared to "slow down with her hazard lights on after trooper Rodney Dunn initiated a traffic stop." From there, she continued driving for two minutes or so, "during which time a concrete barrier was visible along the road's shoulder and no exits are seen."
At the two minute and seven-second mark, the "cruiser bumped the left rear edge of Harper's vehicle in a Pursuit Intervention Technique (PIT) maneuver, which is often used in police chases, causing her vehicle to swerve across Highway 67/167, hit a barrier and flip upside down," according to the suit. Understandably, the video went viral and an edited clip of the footage has been viewed more than six million times. 
When Dunn walked over to Harper's flipped vehicle, she told him "she didn't pull over right away because she didn't perceive it was safe to do so." On the dashcam footage, Dunn can be heard saying, "Well, this is where you ended up." Dunn further "insisted she should have pulled over sooner," to which Harper replied, "I had my flashers on…I didn't feel like it was safe."
The suit notes that the "Arkansas Driver License Study Guide tells motorists that hazards can be used to indicate a driver is seeking a safe place to stop when being pulled over by police." The guide specifically states, "Drivers should pull over to the right side of the road [and] activate your turn signal or emergency flashers to indicate to the officer that you are seeking a safe place to stop."
As such, the suit argues Dunn's conduct, which includes the "negligently performed PIT maneuver, resulted in Harper suffering bodily injuries, mental anguish, humiliation, and embarrassment." 
In addition to Dunn, the suit also names Arkansas State Trooper Alan C. Johnson, Dunn's supervisor, and Col. William J. Bryant, director of Arkansas State Police. The suit alleges that "Johnson and Arkansas State Police had a duty to ensure that Dunn safely operated his vehicle on interstate highways in a reasonably prudent manner and with the highest degree of care." On top of that, the suit argues "Johnson and the department failed to properly train Dunn regarding the appropriate execution of a PIT maneuver during a traffic stop."
Bryant pushed back against the allegations and said:
"In every case, a state trooper has used a PIT maneuver, the fleeing driver could have chosen to end the pursuit by doing what all law-abiding citizens do every day when a police officer turns on the blue lights – they pull over and stop."
For now, Dunn is still an active duty state trooper. 
Sources:
Pregnant woman was searching for safe place to pull over when police rammed and flipped her SUV, lawsuit says
Officer Rammed And Flipped Pregnant Woman's Car During Traffic Stop, Lawsuit Claims