The Immigration and Customs Enforcement agency says its private contractors are strictly monitored, but California finds a lack of transparency troubling.
---
California Attorney General Xavier Becerra says federal immigration detention centers in the state limit inmates' access to adequate healthcare, attorneys and family visitation.
Becerra, writes the Associated Press, outlined the findings of a 147-page report authored by his office. Along with an audit of the rights afforded to migrant detainees, the paper claims immigrants face long periods of confinement. Some lack the means to translate requests, with significant language barriers present within at least 10 facilities across California.
Becerra says the annual report, released Tuesday, is the first of ten. The state legislature requires that the California Department of Justice inspect federal immigration detention facilities throughout the state.
Inspections have been mandatory since 2017, when lawmakers passed a series of "sanctuary state" bills in response to Trump administration crackdowns on immigration.
According to Becerra, many of the problems identified are the result of lax federal oversight. Among the most common "challenges" inspectors identified was the over-use of solitary confinement. Inmates at some facilities were detained in cells or by themselves for up to 22 hours per day, even though most aren't accused of crimes and are simply awaiting court decisions on their immigration status.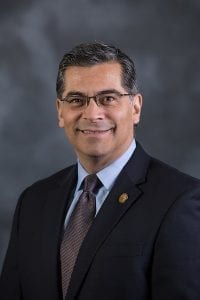 The attorney general's report shares similar conclusions as another state audit, both of which suggest California is kept in the dark about immigration centers' inner workings.
"The state lacks complete information about how much it costs and what conditions the detainees face," that report said. "Also unclear are how many detainees are being held throughout California, where they are being held, and for how long."
The U.S. Immigration and Customs Enforcement agency maintains that its private contractors and police partners "must meet rigorous performance standards" to keep their contracts.
"The safety, rights and health of detainees in ICE's care are of paramount concern and all IEC detention facilities are subject to stringent, regular inspections," agency spokeswoman Lori Haley said in a statement.
Becerra says that some facilities have already tried to improve their performance and have accommodated state criticism with structural readjustments. Despite seeing progress, Becerra says his office is prepared to take legal action against jails which don't initiate change.
"We took the assignment very seriously," Becerra said, emphasizing against that migrant detainees are neither criminals nor convicts. "We hope that other states are watching because everyone in this country has constitutional rights and everyone at the end of the day—child and adult—deserves to be treated in a human way."
Sources
California immigrant detainees face long periods of confinement, state audit reveals