A Smyrna, Tennessee cardiologist still has an active medical license even though he faces sexual battery charges.
---
A Smyrna, Tennessee doctor is facing sexual battery charges against a patient.  Dr. Nelson Mangione, a cardiologist at TriStar StoneCrest Medical Center, was indicted on six charges last month.  Yet, he is still seeing patients at the hospital, because Tennessee stat law does not require him to stop practicing.
Dr. Mangione's medical license can be revoked and he will no longer be able to be a cardiologist if he pleads guilty or there is a conviction.  Mangione posted a $25,000 bond on January 30th and is scheduled for a plea hearing on March 20th.
The initial complaint against the cardiologist was filed in September 2018, but he wasn't formally charged until January 7th of this year.  A call was placed to Dr. Mangione's medical office at StoneCrest on Valentine's Day, February 14, and a receptionist at the desk confirmed he was busy with a patient.  However, later that afternoon, spokesperson Bethany Hart said he had stopped seeing patients altogether and was cooperating with authorities.
"The health and wellbeing of our patients and staff are always our primary concern," Hart said. "The physician is not seeing patients at this time, and we are cooperating with authorities in their investigation of the allegations."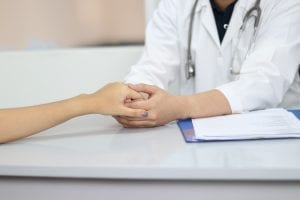 "This allegation was investigated by the hospital and physicians, who determined that Dr. Mangione had done nothing wrong," Little said. "The charges stem from a brief chest exam of a female patient who presented with an emergent condition.  Dr. Mangione conducted the exam as he has done with thousands of patients before, male and female.  The only reason there is an indictment is because Tennessee permits individuals to bring criminal accusations directly to a grand jury, even without a detective or prosecutor endorsing the proposed charge.  That is what happened here. We hope that when the prosecutors review the medical documentation and evidence that was reviewed by the hospital, they will dismiss this matter promptly."
Dr. Mangione received his medical degree from Vanderbilt University and has privileges at two other hospitals, including Centennial Medical Center and Southern Hills Medical Center.  Joe Hagan, assistance vice president for public relations at TriStar said, "He has not practiced (at Centennial and Southern Hills) in years."
This is the first time a medical facility in the Smyrna area received such a complaint.  In 2013, a 21-year-old woman visited a Smyrna clinic to get a physical required as part of her immigration process.  Instead, she was assaulted by Patrick Ogbebor.  The Douglasville man posed as a doctor at the clinic and at the time was the only one in the facility.  He pleaded guilty to two counts of aggravated sexual battery, one count of sexual battery and one count of practicing medicine without a license and is currently serving a 15-year prison sentence.
Ogbebor apparently a lab coat with the name of a physician affiliated with the clinic, but when Ogbebor took the woman into an exam room, he groped her breasts under the guise of giving her a mammogram.  He then further assaulted her by claiming he was performing a pelvic exam.
"No woman should go through that," the victim said.
"The defendant portrayed himself as a licensed medical physician who saw the opportunity to take advantage of a young immigrant woman with a limited knowledge of both the immigration process and the healthcare system," Assistant District Attorney Lindsay Gardner said. "He used the trust people place in medical professionals to violate the most intimate parts of a woman's body."
Sources:
Cardiologist accused of sexual battery kept seeing patients for weeks
Smyrna doctor facing sexual battery charges against patient
Smyrna doctor charged with sexual battery was still seeing patients weeks later
Fake Smyrna doctor to serve 15 years for sex assault on patient