New York State also sued Juul earlier this week. Both states are alleging that the e-cigarette company illegally marketed its products to minors.
---
California and Los Angeles are suing Juul, claiming the e-cigarette distributor targeted minors in its advertisements.
According to The Los Angeles Times, California has banned the sale of e-cigarettes to anyone younger than 21. Despite the restriction, the state maintains that Juul—the United States' largest vape manufacturer—intentionally appealed to underage youth, marketing flavors like mango, cool mint, crème brulee and cucumber.
In a statement made Monday, California Attorney General Xavier Becerra insisted that Juul's advertising campaigns have had a net-negative effect on the state.
"We've worked too hard, committed our hard-earned money for too long combating harmful tobacco use to stand idly by as we now lose Californians to vaping and nicotine addiction," Becerra said. "Juul adopted the tobacco industry's infamous playbook, employing advertisements that had no regard for public health and searching out vulnerable targets."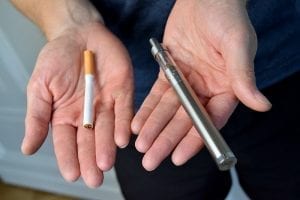 "Millions of teens and young Americans now use their product," Becerra said. "In California, we will not allow kids to be lured in by deceptive practices."
The lawsuit, says The Associated Press, claims that, along with illegally marketing nicotine to minors, Juul also failed to verify customers' ages on its website, knowingly shipped products to customers who provided false identities online, and distributed products at public events without attaching disclaimers that they contained addictive nicotine.
While Juul has long positioned its products as a safe alternative for adults trying to give up traditional combustible cigarettes, the company's been criticized for its questioning sales tactics. Along with offering fruity flavors, Juul worked with social media influencers to ensure its devices received popularity on youth platforms. And in July, a House hearing revealed that Juul spokespeople hawked their products directly to high schoolers at assemblies in New York state.
New York is also suing Juul for marketing to children.
In the meantime, Juul's put in serious effort to reform its public image. It recently pledged to halt all sales of flavored products, save for those with menthol or tobacco tastes.
In fact, Juul has said it'll stop advertising in the United States altogether.
The company's recently-appointed chief executive, K.C. Crosthwaite said Juul must change its tactics and "earn the trust of society."
Nevertheless, parties to the suit have said whatever changes Juul and Crosthwaite are trying to put across are too little, too late.
"Unfortunately, tobacco and nicotine use is on the rise among young people, driven largely by vaping products," said Los Angeles County District Attorney Jackie Lacey, noting that nearly 28% of local high schoolers had reported vaping in the past year.
Even though the Trump administration has promised some reform, Lacey and Becerra believe states need to take matters into their own hands.
"We're not going to wait for the federal government," Becerra said.
Sources
California sues e-cigarette maker Juul over ads, youth sales
California is Taking Vaping Giant Juul to Court