For your Father's Day cookout this Sunday, you may want to skip the pre-cut melon. According to a recent recall issued by the Centers for Disease Control and Prevention (CDC) and the U.S. Food and Drug Administration (FDA), certain containers of pre-cut melon has "been linked to a Salmonella outbreak" that has already sickened more than 60 people throughout eight states.
Of the 60 people who have fallen ill after consuming the contaminated melon, 31 have been hospitalized. It's also important to note that "32 of the 60 reported cases of illness were in Michigan." Other states affected by the recall include "Georgia, Illinois, Indiana, Kentucky, Missouri, North Carolina, and Ohio," according to the recall notice.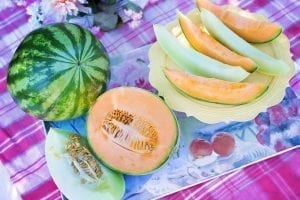 An investigation into the outbreak pointed to "Caito Foods' Indianapolis facility as the likely source of the outbreak," prompting the company to issue its own voluntary recall on it's "fresh-cut packages of watermelon, honeydew melon, cantaloupe and fresh-cut mixed fruit containing" one of the potentially contaminated melons.
Where were the recalled products sold, though, and how can consumers tell if they have a container of the contaminated melon on hand? For starters, the melon was "packaged in clear plastic clamshell containers." Additionally, it was sold at a variety of popular retailers, including "Costco, Trader Joe's, Walgreens, Walmart, Whole Foods, and many others." A full list of the specific recalled products can be found here.
For now, consumers are being advised to discard the product or return it for a refund. For those who don't already know, Salmonella is serious business. Not only can it cause "fever, diarrhea, nausea, vomiting and abdominal pain in healthy adults," but it's especially dangerous for children, pregnant women, the elderly and anyone with a weakened immune system. If you think you consumed one of the recalled products or are experiencing these symptoms, seek medical attention immediately.
Sources:
The CDC Has Recalled Melon Sold at Trader Joe's, Whole Foods, and Other Stores
Multistate salmonella outbreak linked to pre-cut melon
Caito Foods, LLC Voluntarily Recalls Fresh Cut Melon Products Because of Possible Health Risk
Join the Discussion