The suit says that lax gun control laws in Illinois are disproportionately affecting and traumatizing African-American children.
---
A Chicago judge will allow the remnants of a firearm lawsuit against the State of Illinois to proceed without appellate review.
According to Newsweek, the decision was made by U.S. District Judge Joan B Gottschall. In her ruling, Gottschall dismissed a petition from the state for an intermediate appeal of an earlier decision. Illinois was, in effect, hoping to bypass an ordinary circuit.
As Newsweek notes, the lawsuit was filed by three Illinois residents. Naming the governor and Illinois State Police as defendants, the complaint claims that law government and law enforcement have been unable to protect African-American children from the trauma of widespread gun violence in predominately black communities.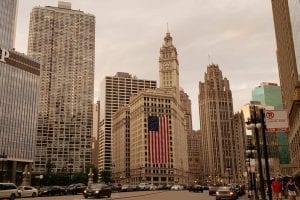 The suit says, among other things, that Chicago youth living in the city's most crime-stricken neighborhoods disproportionately suffer from post-traumatic stress syndrome. With incidences of PTSD disproportionate to demographic trends and geographic placement, the plaintiffs argue that Illinois is in violation of the Americans with Disabilities Act as well as the Illinois Civil Rights Act.
"Forty percent of the guns recovered on crime scenes on the streets of Chicago are traced to Illinois gun dealers," said attorney Tom Johnson. "Those gun dealers have been, and continue to be, unregulated."
However, Illinois in now in the process of implementing a stringent gun control law. The recently-passed Firearm Dealer License Certification Act complements and fulfills many of the plaintiffs' demands.
Writing to Gottschall, the state's asked that the suit be dismissed.
"The discussion above shows that, in passing the License Certification Act and in implementing new rules under that Act, the State and the State Police have adopted precisely the kinds of rules plaintiffs are asking the Court to order through injunctive relief," state attorneys wrote to the court.
Nevertheless, Johnson and his clients say the state hasn't gone far enough—furthermore, there's no guarantee it'll survive challenges raise by the Illinois State Rifle Association.
"The lawsuit seeks far more than what is in the bill," Johnson said. "We'd like to see [Gottschall] require the state police to come up with a meaningful plan of regulations."
In her ruling, Gottschall reasoned that the state had no logical grounds to move the suit to intermediate appeal. If Judge Gottschall made that decision, due to the implementation of the License Certification Act, it's likely that the case could be unnecessarily prolonged.
Howard Geoghegan, attorney for one of the original's suits remaining plaintiffs, praised Gottschall's verdict.
"This opinion by the district court gives the state the authority to take additional measures regarding enforcement, so why are they fighting it?" he asked. "Especially when you have the opportunity to restrict illegal gun trafficking that is a scourge of the west and south sides of the city."
Sources
FEDERAL JUDGE LETS CIVIL RIGHTS LAWSUIT AGAINST ILLINOIS OVER GUN VIOLENCE PROCEED
Judge denies request to dismiss lawsuit that would force more gun restrictions