The lawsuit centers on an Evergreen College protest that took place in 2017.
---
A civil rights lawsuit has been filed against Washington state and Patriot Prayer, a far-right organization involved in a demonstration at Evergreen College in 2017.
Oregon Public Radio reports that Patriot Prayer allegedly 'engaged in violence' at Evergreen. White supremacists were purportedly in attendance at its 2017 rally, sparking a confrontation between participants and protesters.
The suit, says OPB, was filed in U.S. District Court for the Western District of Washington, on behalf of Thurston County resident Joseph Robinson.
Robison claims that Patriot Prayer founder Joey Gibson—along with three Washington State Patrol officers—violated his rights after the right-wing rally took a violent turn.
According to Oregon Public Radio, protests broke out several months into 2017, after President Donald Trump was sworn into office. Every year, says OPB, Evergreen students observe a day of absence—students of color stay home, emphasizing their importance to the community.
However, some undocumented students and immigration activists suggested a controversial change. To protect students of less-certain residency statuses, they demanded that all white students and faculty observe the day of absence by leaving campus.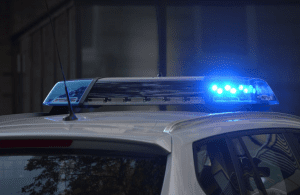 Not surprisingly, the suggestion attracted skepticism and anger. Then-Evergreen Professor Bret Weinstein criticized activists' demands, writing a letter to college faculty expressing his disapproval.
Fox News and other right-wing media outlets quickly latched onto the story. Weinstein was invited to speak on Fox News' "Tucker Carlson Tonight," exacerbating on-campus tension.
Robinson says that at one protest, members of Patriot Prayer—including Gibson—grabbed him by the neck and pushed him towards police.
"Patriot Prayer has no business making arrests, which is effectively what happened," said Larry Hildes, Robinson's attorney. "They grabbed him, threw him to the ground, searched him and dragged him over to the police and said, 'Arrest him.'"
A short clip shot by a ring-wing videographer shows Robinson being dragged across the ground by Patriot Prayer members, who'd seized a bandana Robison had been wearing to wrap around his neck. They used the bandana to drag Robinson to Washington State troopers, who the lawsuit accuses of collaborating with Patriot Prayer to perform arrests.
Law enforcement officials took Robinson into custody and filed charges against him, which were dropped a year later.
Hildes claims that Washington State Patrol's stance effectively "authorized Patriot Prayer" to make illegal arrests.
Hildes says his client was forced to endure indictment for no reason other than exercising his freedom of speech. Robison's objective now is to ensure not only that Washington State Patrol changes its tactics, but that Patriot Prayer goes out of business, too.
Hildes notes that even though Patriot Prayer has the right to assemble, they can't physically harass their ideological opponents.
"[Gibson] has a First Amendment right," Hildes said. "He does not have the right to threaten, abuse, attack, bully, assault. He doesn't only just incite violence, he engages in violence."
"They act like brown shirts," Hildes said, comparing Patriot Prayer to members of a Nazia-era paramilitary.
"I want them out of business," he added, "I want them out of existence as an entity."
Sources
Civil Rights Lawsuit Filed Against Joey Gibson And Washington Police Officers
Far-right leader and Washington officers face civil rights lawsuit over violent incident