A Colorado judge has rejected former President Donald Trump's request to dismiss a lawsuit that would keep him off the 2024 general election ballot, ruling that Trump's First Amendment-based objections are not applicable to the plaintiffs' complaint.
According to The Associated Press, Trump's attorneys had earlier argued that a Colorado law proactively protects people from being sued over exercising their free speech rights.
However, in her ruling, Colorado District Court Judge Sarah Wallace said that the law was enacted for a very different purpose. It also conflicts with a state requirement to resolve questions of Trump's eligibility as quickly as possible, before a January 5th deadline for candidates' names to be certified for the state primary.
"It goes without saying that, in the abstract, ensuring that only constitutionally qualified candidates can seek to hold the highest office in the country, particularly when the disqualification sought is based on allegations of insurrection against the very government over which the candidate seeks to preside, seeks to enforce an important right which confers a significant benefit to the public," Wallace wrote.
In its lawsuit, Citizens for Responsibility and Ethics in Washington claims that placing Trump's name on the ballot would violate provisions of the 14th Amendment to the United States Constitution, which prohibits people who have "engaged in insurrection" from holding public office.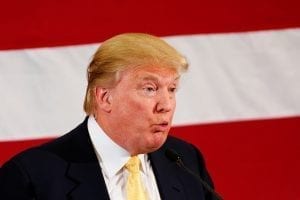 "The Constitution's qualifications are not optional," C.R.E.W. President Noah Bookbinder said on Wednesday. "They are the supreme law of the land and they are the cornerstones of our democracy. This qualification in particular was intended to safeguard democracy. It ensures those who attacked our democracy—that those who attacked our democratic system of government by engaging in insurrection—not be put in charge of it."
"Republican primary voters deserve to know whether a leading candidate is eligible to serve in the office that they're seeking, so we hope that this case will go a long way towards answering that question in a court of law," said C.R.E.W. chief counsel Donald K. Sherman in September, shortly after the lawsuit was filed.
Sherman has since praised the Colorado court's decision, calling it a "well-reasoned and very detailed order."
The Associated Press notes that Geoffrey N. Blue, a lawyer representing Trump, released a statement emphasizing that there is little evidence that Trump actively facilitated or encouraged the insurrection.
"Even if the riot on Jan. 6 were to be considered an insurrection, there is no evidence that President Trump engaged in that insurrection," Blue said. "Petitioners do not point to any specific actions that President Trump took other than speaking or not speaking."
Sources
Colorado judge strikes down Trump's attempt to toss a lawsuit seeking to bar him from the ballot
Colorado voters sue to disqualify Donald Trump from 2024 presidential ballot
Denver judge rules 14th Amendment lawsuit seeking to bar Trump from ballot can proceed