One kilogram of fentanyl has the potential to kill 500,000 people. 6 out of 10 illegal fentanyl tablets sold on U.S. streets now contain a potentially lethal dose of the drug.
---
INDIANAPOLIS – Walter Mays, 52, of Indianapolis, Indiana, has been sentenced to 198 months in federal prison after pleading guilty to possession with intent to distribute 400 grams or more of fentanyl and admitting to violating his supervised release from a prior federal conviction.
According to court documents, on October 26, 2022, IMPD officers stopped Walter Mays for numerous traffic violations on the east side of Indianapolis. Officers searched the vehicle and located 189.2 grams of cocaine in the center console. During a conversation with officers, Mays admitted that he had more drugs at his residence and another 5.5 ounces of cocaine in the back of his truck. Mays also stated that he was on his way to sell the cocaine to a customer for $3,000.
Drug Enforcement Administration Agents searched Mays' home and found a Bath and Body Works bag containing over 1.1 kilograms of fentanyl and 83.6 grams of crack cocaine. Agents also found a black 9mm handgun and two digital scales.
Mays is prohibited under federal law from ever possessing a firearm due to his previous felony conviction for possession of crack cocaine with intent to distribute. Mays was on federal supervised release at the time of this most recent offense.
"Fentanyl is the deadliest drug our country has ever faced, and those who seek to profit from this poison must be held accountable," said Zachary A. Myers, United States Attorney for the Southern District of Indiana. "The federal prison sentence imposed against this repeat drug dealer demonstrates that there will be serious consequences for those who traffic in deadly drugs with utter disregard for human life. Our federal prosecutors are committed to working closely with the DEA and IMPD to take fentanyl and fentanyl dealers off our streets because just one pill can kill."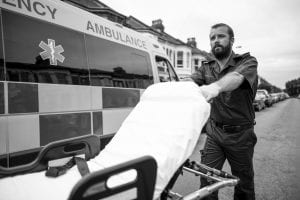 DEA and IMPD investigated this case. The sentence was imposed by U.S. District Court Judge, Sarah Evans Barker. Judge Barker also ordered that Mays be supervised by the U.S. Probation Office for 10 years following his release from federal prison.
U.S. Attorney Myers thanked Assistant United States Attorney Patrick A. Gibson, who prosecuted this case.
According to the Drug Enforcement Administration, as little as two milligrams of fentanyl can be fatal, depending on a person's body size, tolerance, and past usage. One kilogram of fentanyl has the potential to kill 500,000 people. 6 out of 10 illegal fentanyl tablets sold on U.S. streets now contain a potentially lethal dose of the drug.
One Pill Can Kill: Avoid pills bought on the street because One Pill Can Kill. Fentanyl has now become the leading cause of death in the United States. Fentanyl is a highly potent opioid that drug dealers dilute with cutting agents to make counterfeit prescription pills that appear to be Oxycodone, Percocet, Xanax, and other drugs. Fake prescription pills laced with fentanyl are usually shaped and colored to look like pills sold at pharmacies. For example, fake prescription pills known as "M30s" imitate Oxycodone obtained from a pharmacy, but when sold on the street the pills routinely contain fentanyl. These pills are usually round tablets and often light blue in color, though they may be in different shapes and a rainbow of colors. They often have "M" and "30" imprinted on opposite sides of the pill. Do not take these or any other pills bought on the street – they are routinely fake and poisonous, and you won't know until it's too late.