Certain Ragdoll & Rockets pajamas were recently recalled by the CPSC.
---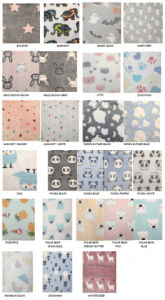 Earlier this week on September 10, the United States Consumer Product Safety Commission (CPSC) issued a recall for certain children's pajamas over claims the clothing failed to meet federal flammability standards. According to the notice, the affected pajamas were created by Ragdoll & Rockets.
Nearly 14,000 pairs of pajamas are included in the recall and were available for sale in clothing stores across the country and online at www.ragdollandrockets.com between May 2018 and May 2019. They retailed between $16 and $28. It's important to note that the recall only involves five styles of the pajamas, which were all made from 100% micro-polyester fleece. According to the notice, "they include a one-piece, hooded and footed children's onesie, pants with a drawstring, shorts, long-sleeved crew top, and a baby onesie." Additionally, the pajamas were sold in 16 different prints, including the following: Big Stars, Elephant, Ghost Glow, Happy Feet, Hello Bunny, Kitty, Love Paws, Lush Dots, Moon and Stars, Owl, Panda, Pineapple, Polar Bear, Rainbow Glow, Snowman and Winter Deer. 
For now, consumers are being advised not to allow their children to wear the affected pajamas. If you or someone you know have questions or concerns about the recall, contact Ragdoll & Rockets at 888-669-9313 or email the company at recall2775@genexus.com.
Sources:
RECALL: Children's pajamas recalled for risk of burn injury
Ragdoll & Rockets Recalls Children's Loungewear Due to Violation of Federal Flammability Standard