Cruise Lines International Association of Alaska (CLIA) and City and Borough of Juneau (CBJ) agreed to settle a suit over allegations that CBJ was wrongfully using passenger fees.
---
The city and borough of Juneau (CBJ) and Cruise Lines International Association of Alaska (CLIA) recently agreed to settle a lawsuit CLIA filed against the city "over the use of passenger fees." The suit was originally filed in 2016 over allegations that the city and borough were "unconstitutionally collecting and spending fees collected from cruise ship passengers," which the defendants denied.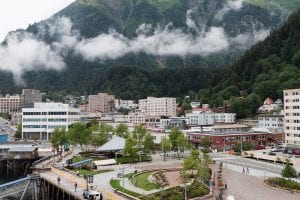 The recent settlement was a welcome relief to both sides of the aisle. When commenting on the settlement, Deputy Mayor Maria Gladziszewski said:
"It's been a long road, there are thousands of pages of documents on the website. We've been working on it for a long time. The negotiating team's been working on it a long time, the lawyers have been working on it, the Assembly's been working on it, and in general the basic, fundamental reason the city has been continuing to work is we value local control of our waterfront, and we wanted to be responsible stewards of the funds collected to benefit passengers and the operation of the vessels. We're really pleased this has come to a resolution."
As part of the settlement agreement, both CBJ and the CLIA will have the legal fees "reimbursed from the city's general fund," which total $1.95 million. Of that $1.95 million, "$1.5 million will go to CLIA and $450,000" will go to the city and borough. Then, during the 2020 fiscal year, the "general fund will be reimbursed for that sum by passenger fee money." According to City Manager Rorie Watt, the city plans to collect close to $17 million during the upcoming tourist season. That breaks do to "$13 per about 1.3 million passengers in passenger fees."
In addition, "CBJ will use passenger fees to continue providing services and infrastructure to cruise ships including restrooms, signage, motor coach staging, crossing guards, fire and emergency medical service and police patrols," according to the agreement.
When asked about the settlement, CLIA Alaska President John Binkley said he's thrilled about how things shook out. He said:
"We're certainly pleased with the settlement. It's really an opportunity for all of us in the cruise industry and the community of Juneau to move forward. We realize that when we bring visitors here we are guests, in your community, and it's our primary responsibility to act as guests and work with you to make certain that we sustain and maintain that excellent quality of life for people in Juneau."
Sources:
City and cruise line make lawsuit settlement official