Democratic pollsters claim that President Trump's tough take on immigration may cost Republicans in today's midterm election.
Trump, for his part, has made immigration affairs a mainstay of his administration. In an attempt to drum up support for conservative candidates across the country, the president has honed in hot-button issues. Among the most prominent is a large 'caravan' of migrants currently en route from Honduras to the U.S.-Mexico border.
The commander-in-chief has repeatedly condemned the caravan as full of 'bad guys,' and has blamed Democrats for its inception.
But Democrats say the tactics may backfire.
"There's evidence in the recent Virginia election in 2017 that the approach that Republicans are taking down the stretch in this election doesn't work," Jeff Liszt, partner at ALG Research told reporters on Tuesday.
The Hill notes that in Virginia's gubernatorial election last year, Republican candidate Ed Gillespie 'centered his pitch around MS-13 and immigrant crime.
That tactic didn't pan out with the electorate—Gillespie lost to incumbent Gov. Ralph Northam by nearly 9 percentage points.
So far as immigration goes, Democrats are quick to claim that harsh rhetoric can backfire among minorities and independent voters.
"It does provide some energy to their base, but it backfires with people of color, and with suburban voters, and independent voters, particularly independent women," Celinda Lake, president of Lake Strategies, said.
"It is also a strategy that energies out base," she said.
Other immigration advocates, including Gary Segura of Latino Decisions, told The Hill that the issue benefits Democrats.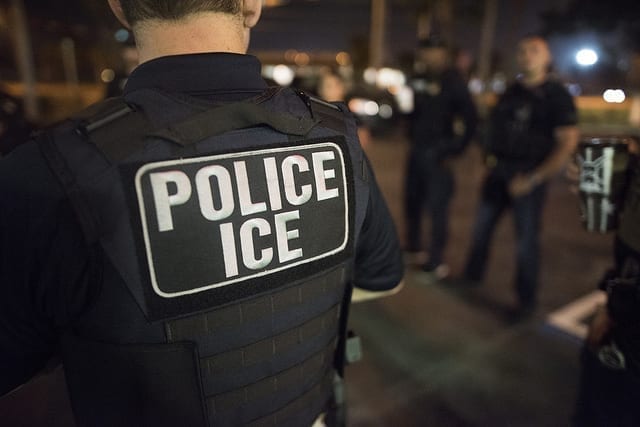 "It has been the case that progressives and Democrats have at times shied away from this issue," Segura said, "But … it is a winning issue for Democrats and we can and should be leaning into it."
However, The Hill reports that Bloomberg analyses have shown that immigration isn't a priority for Republican or Democratic voters. Outside 'a swath of central Georgia and small pockets in Arizona, California and Texas,' political ads nationwide have avoided the issue.
Nevertheless, Segura says that polls and survey data show that 'most voting blocs are put off by some Trump policies.' Summer's family separation debacle, for instance, was widely unpopular.
"Latinos are hugely angry at family separations," Segura said. "But when we poll in other communities, we find similar numbers. 79 percent of Asian-Americans, 83 percent of African-Americans and even 69 percent of non-Hispanic white Americans report feeling 'angry' about the childhood separation policy."
Despite the data described by Democrats, Republicans have persisted in painting immigration—legal and illegal—as a matter of public safety and endangerment.
According to Lake, races including two candidates with vastly different takes on immigration tend to favor liberals.
"In poll after poll, Democrats today have the advantage on immigration," she said, though it remains unclear whether the correlation between immigration policy and election-day performance is so linear.
Sources
Dem pollsters see immigration as a winning issue