Nike recently found itself the target of pregnancy discrimination accusations.
---
Nike recently came under fire over allegations of pregnancy discrimination. Earlier this week, Alysia Montaño, a female athlete, emerged with accusations that the company fails time and time again to "protect pregnant athletes under contract with them." Since news of her accusations emerged in the form of an opinion piece in The New York Times, people on both sides of the aisle have chimed in on that matter.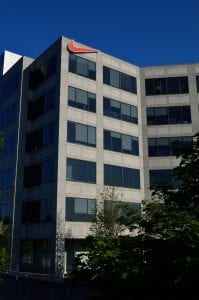 But wait a second? Didn't Nike recently run ads on Mother's Day promoting gender equality in sports? Would a company who touts such a message really discriminate against pregnant athletes? If so, what does that discrimination look like? For starters, women playing on professional sports teams are typically protected from discrimination from companies like Nike by whatever league they're playing in. However, individual athletes, like track and field athletes, don't have that type of protection. Instead, they have to earn their income "from their sponsorship deals with companies like Nike." Oftentimes, these sponsorship deals include health insurance benefits, though "that insurance can disappear if they don't place at the top of the competition."
When commenting on the matter, Phoebe Wright, a runner who had a sponsorship deal with Nike from 2010 to 2016, said, "Getting pregnant is the kiss of death for a female athlete. There's no way I'd tell Nike if I were pregnant."
In her recent opinion piece, Montaño said:
"Sports take a heavy toll on the human body, and sponsors accommodate this with time off for injuries. But rarely do they offer enough time off to have a child."
To make matters worse, female athletes aren't even "guaranteed a paycheck during pregnancy or maternity leave." Then when they're on maternity leave, many female athletes are pressured to return to the track before their body has time to fully heal.
The recent New York Times piece also spotlighted Olympian Kara Goucher. According to her, she made "many unpaid appearances for Nike during her high-risk pregnancy, then had to wait to announce her pregnancy so Nike could do that for her for on Mother's Day." She also eventually lost her health insurance "and then had to choose between running 120 miles each week or breastfeeding her son." She chose running. As if that wasn't bad enough, when her "son became severely ill, she had to choose whether to be with him or prepare for the race that would restart her pay."
When recalling her experience, Goucher said:
"I felt like I had to leave him in the hospital, just to get out there and run, instead of being with him like a normal mom would. I'll never forgive myself for that."
So how has Nike responded to the complaints? Well, the company claims "it has changed its approach so that women aren't penalized for taking time off during and after pregnancy." However, it has yet to indicate whether it has changed any of the current contracts to better accommodate the demands of pregnancy and the post-natal period.
Isn't it illegal to discriminate against pregnant women, though? Typically, yes. But independent contractors aren't protected by pregnancy discrimination laws. Because of this, many independent contractors, including professional athletes, feel pressured to hide their pregnancies as long as possible and take little to no maternity leave.
Sources:
Female athletes say Nike discriminated against them for getting pregnant
NIKE ADMITS FEMALE PREGNANT ATHLETES FACED PERFORMANCE-RELATED PAY CUTS