DoorDash, the food delivery service, is at the center of a lawsuit alleging negligence after one of its drivers stabbed a restaurant owner.
---
Have you heard of DoorDash? For many people, it is a convenient delivery service that connects people in cities across the country to restaurants of all kinds. The idea behind it is simple enough. Typically a customer places an order online and a DoorDash driver picks the order up from a restaurant and delivers it to customers. Pretty simple. Unfortunately, things don't always go as planned, though. According to a restaurant owner in Las Vegas, he was "stabbed last year by a DoorDash delivery driver" and is now suing DoorDash over allegations of negligence.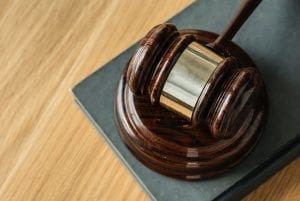 According to the lawsuit, the delivery service was "negligent in hiring a felon with a history of violence and mental illness." The suit was filed by the victim, Fabio Coppola and his wife, Heather Coppola in Nevada state court. In the suit, the couple describes how after the attack, the driver, Mackie Lee Allen, "went on to deliver the food order he had picked up from the restaurant."
Richard Schonfeld, Coppola's attorney chimed in on the matter and said the case aims to question the "minimum standards for the protection of consumers and restaurant workers." He added, "DoorDash's flawed background check policy almost cost Mr. Coppola his life."
In addition to naming DoorDash as a defendant, the suit also named Allen. Nearly a week after the attack, which occurred on October 27, 2018, at Roma Deli Restaurant, Allen was arrested. He is currently being held at Clark County jail on an attempted murder charge. His preliminary hearing is scheduled for next month.
The attack on Coppola wasn't the first time Allen has been accused of committing violence. He has a "previous felony convictions in Las Vegas for attempted robbery, forgery and drug conspiracy dating to 2010, including one in which a judge required Allen to obtain further mental health evaluation," according to the suit. The suit also alleges that the background check Allen had to undergo to be hired by DoorDash only "reviewed seven years of criminal history — a period during which Allen was in prison." The background check was performed by Checkr, a service that is not named in the suit as a defendant.
As a result of the violent incident at the restaurant, Coppola was treated for wounds to his back, chest, side and a finger. He and his wife are also seeking unspecified damages greater than $15,000.
When commenting on the lawsuit and the couple's allegations of negligence, DoorDash issued the following statement:
"We sincerely regret that this incident fell short of the experience we strive to give our customers every day."
Sources:
Lawsuit says DoorDash negligent in hiring driver in attack
DoorDash sued by Las Vegas deli owner alleging driver stabbed him