Dr. Omar Awad initially survived the crash but, due to a technological error, was trapped inside, where he was slowly suffocated and burnt to death.
---
The family of a Florida man who died in a single-vehicle accident is suing Tesla, claiming Dr. Omar Awan initially survived the crash but was trapped inside by the car's futuristic design.
According to The Washington Post, Awan had dreamed of owning a Tesla. But he lost control of his blue Model S while cruising a South Florida road. The car slammed into a pam tree. Awan, however, was still alive.
The last moments of his life were torturous. The Model S, notes the Post, has a lithium ion battery. It caught fire. The car began to fill with smoke, then flames.
Awan was suffocated as he began to burn from the bottom-up.
A crowd gathered outside couldn't do anything but watch. Even though Tesla's doors are supposed to "auto-present" when a key fob is detected nearby, the feature on Awan's Model S malfunctioned. Even first responders weren't able to pry the doors open in time to save Awan.
"The fire engulfed the car and burned Dr. Awan beyond recognition—all because the Model S has inaccessible door handles, no other way to open the doors, and an unreasonably dangerous fire risk," the lawsuit claims.
"These Model S defects and others," adds the suit, "rendered it a death trap."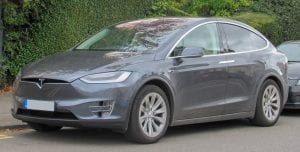 The Post notes that Awad, 48, was an anesthesiologist and father of five. Awad family attorney Stuart Grossman said the deceased doctor leased the car for two specific reasons: because it was environmentally friendly, and because Awad trusted Tesla's reputation for safety.
"How the hell do you justify advertising a car that is supposed to be among the safest vehicles in the world?" Grossman asked. "It's anything but industry standard. The door handle has got to function for God sakes."
Grossman says that Tesla has repeatedly claimed that its Model S has achieved "the best safety rating of any car tested." And so Awad—who, on an anesthesiologist's salary, could've afforded almost anything else—opted to lease a 2016 Tesla.
That decision, says Grossman, cost him his life.
"These things, they just love to burn," Grossman said. "The car is so over-engineered. It's so techy, it makes you want to buy a Chevy pickup truck."
Nevertheless, Tesla has defended its Model S.
"We are deeply saddened by this accident," Tesla told The Florida Sun-Sentinel. "[But] Tesla vehicles are engineered to be the safest cars in the world and Tesla drivers have driven more than 10 billion miles to date."
Some Tesla enthusiasts have blamed Awad for his own death, saying speed had more to do with the incident than a malfunctioning handle.
"Regardless of what type of car we drive, we all need to take responsibility for driving safely," said Florida Tesla Enthusiasts President Larry Chanin. "These lawsuits, for apparent reasons, deliberately avoid this important point and assign absolutely no responsibility to the drivers, who not only tragically endangered themselves, and their passengers, but innocent bystanders as well."
Chanin, though, doesn't appear to have addressed the technological malfunction which prevented Awad from being pulled out of the car. And that, it seems, is exactly what Grossman is arguing.
"Beware," Grossman said. "Don't purchase a vehicle that freezes you in and catches fire."
Sources
Broward man's Tesla turned into burning 'death trap,' lawsuit claims. Door wouldn't open
ICE Will Not Enforce Immigration Laws During California Wildfire Evacuations, Relief Effort
A man died in a burning Tesla because its futuristic doors wouldn't open, lawsuit alleges