There are laws to protect you from mistreatment from coworkers and employers. End discrimination today and stand up for what's right. 
---
People with disabilities possess the exact same rights and privileges as non-disabled people. However, there are instances where it is necessary that these privileges be enhanced in order for the disabled persons to have the same opportunity as a non-disabled person. 
On job applications there is an area that is reserved for the candidate to state whether or not they have a disability. This area is predominantly used by the employer to ascertain whether or not the potential candidate can carry out the assignments and tasks of the job with a reasonable amount of accommodation. This practice of identifying whether or not a person has a disability is so that the employer knows what assistance will be needed to be given to the disabled person if they are selected for the job. Unfortunately, there are instances where employers may fail to ensure that the needs of the disabled person are met. These employers intentionally put that disabled person at an even greater disadvantage in the workplace.
Acts such as the Equality Act 2010 and Americans With Disabilities Act were put into action in order to protect workers with disabilities from being discriminated against. They determine that any type of discrimination, whether it is intentional or not, is still unlawful. These laws protect disabled workers from being treated unfairly or more poorly that their fellow coworkers. Sadly, many workers who are disabled do not know that they are being discriminated against or treated poorly because this is simply the treatment that they are used to experiencing. The goal of this article is to help identify the different types of discrimination against disabled workers and provide direction on where to go for help.
What exactly is discrimination in the workplace? 
Discrimination in the workplace occurs when a person who is disabled is being treated disrespectfully either due to their disability, their history of disability, or their association with a person with a disability. This discrimination towards the disabled worker can present itself in many different forms. 
Direct disability discrimination takes place when a disabled person experiences unfair and harsher treatment when compared to the treatment of non-disabled coworkers in the same circumstance. All employees of a workplace regardless of disability have all the same rights, privileges, wages, vacation time, and benefits. When an employer is not treating employees who all work in the same environment equally, then this is identified as direct discrimination. 
For any legal action to be taken against the employer, it is the disabled worker's responsibility to provide proof that the discrimination is taking place. The disabled worker will need to provide proof that they have a disability and have been treated unfairly compared to coworkers. They will also need to prove that the mistreatment was a result of their disability. An example of direct discrimination is if a non-disabled worker were to break a rule and only receive a verbal warning while when a disabled person breaks that same rule they receive harsher punishment.
Indirect disability discrimination is the type of discrimination that most often seen in the workplace. The reason for this is that most people do not know how to spot it. This type of discrimination occurs when the regulations and policies that are applied to non-disabled workers at a workplace put the disabled workers at a disadvantage. 
An example of indirect discrimination is if a posting for a job were to state that a driver's license was required to be considered. This would automatically hinder a disabled person from being selected for the job. If the employer who posted the ad can provide proof that a driver's license is in fact necessary to perform the functions of the job, then they will not be held at fault. 
Indirect discrimination may be subtle or appear to be unintentional but it is still against the law. While it may be difficult sometimes to determine what is indirect discrimination, if you believe there is a possibility you might be being discriminated against you should make their concerns known and contact a legal representative.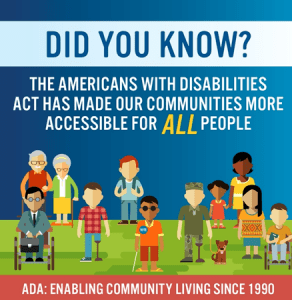 Discrimination can also be the result of a history of disability. If a person's disability is cured or disappears that does not mean that the person cannot still be discriminated against by an employer. A person can still experience discrimination due to a disability they had previously. An example of this would be if a worker were to survive a chronic illness such as cancer. The person may now be in remission and cleared to return to work. However, the employer might not allow the person to be promoted due to the fear of the cancer coming back. Even if your disability now ceases to exist, you are still protected by the Americans with Disabilities Act.
Discrimination also takes place when employers fail to make the necessary accommodations that the disabled person requires to perform the functions of their job. An employer is discriminating when they fail to meet these needs of the disabled worker. An example would be if an employer fails to provide special seating for those with injuries to the back or spinal cord, or not providing special keyboards for the blind, not providing handicap parking spots, and setting unreasonable work goals. A disabled worker can't be expected to complete a task if the accommodations needed to complete it are not met.
A disabled person may already have experienced being treated unequally in the past. However, this doesn't mean they have to endure mistreatment in the present. It is wrong in every way to treat someone poorly because of their disability. There are laws to protect you from mistreatment from coworkers and employers. End discrimination today and stand up for what's right. 
If you or a loved one is experiencing discrimination in the workplace, contact a New York employment lawyer immediately so action can be taken. The discrimination that you are experiencing may be completely unique to your disability. Just because the type of discrimination you endured is not listed in this article does not mean it is not happening. If think you may be being discriminated against in anyway promptly contact a NYC employment lawyer. For more on disability discrimination, click here.