The lawsuit accuses a 30-year veteran of the Columbus Police Department of wrongfully killing Lewis while he slept inside his own apartment.
---
The family of a 20-year-old Ohio man who was killed by Columbus police has filed a wrongful death lawsuit against the officer who fatally shot him.
According to ABC News, the complaint was filed by the family of Donovan Lewis, who was unarmed and, in his bed, when he was shot last August after officers arrived to his home to serve a warrant for his arrest.
Lewis, who was an expecting father, had three outstanding charges for domestic violence, assault, and improper handling of a firearm.
ABC News reports that body camera footage of the encounter was released last September.
Footage from the officers' body cameras shows Columbus Police Officer Ricky Anderson appearing to open fire almost immediately after law enforcement opened the door to the bedroom in which Lewis was sleeping.
While Lewis was not immediately killed, he later passed away at a local hospital.
ABC News notes that a total of five officers are named in the lawsuit, including Anderson, Chance Knox, Harry Dorsey, Jack Randall, and Justin Dodrill.
All five of the officers, ABC reports, were involved in the early-morning raid on Lewis's Hilltop neighborhood apartment.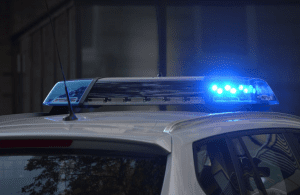 "This senseless death was completely preventable," the lawsuit says.
Mark Collins, an attorney representing Officer Anderson, earlier called for a "thorough investigation" into the circumstances surrounding Lewis's death.
"When we analyze police-involved shootings, we must look to the totality of the circumstances, and we are expressly forbidden from using 20/20 hindsight, because unlike all of us, officers are not afforded the luxury of armchair reflection when they are faced with rapidly evolving, volatile encounters in dangerous situations," Collins said in a statement last September.
Nevertheless, lawyers for the Lewis family have criticized the Columbus Police Department's decision to retain Anderson after the shooting.
"He has, for 170 days after he killed a young man, has been on the payroll […] We continue to demand that Ricky Anderson be terminated by the city immediately," attorney Rex Elliott said in a statement.
"We see absolutely no reason why this case has not been submitted to the grand jury and an indictment secured," Elliott said. "The coroner's office did a detailed investigation and concluded that this was a homicide. The entire world knows that this was an unjustifiable killing."
Elliott suggested in a Thursday press conference that the family will likely file another complaint against the City of Columbus.
"The City of Columbus is not in this complaint because City of Columbus needs to be sued in federal court," Elliott said, adding that a separate lawsuit against the local government would "involve a very different set of facts than the state court complaint" against Anderson.
Sources
Donovan Lewis' family files lawsuit against officer who shot and killed him
Family files wrongful death lawsuit against Columbus police officer who shot Donovan Lewis