In his ruling, the presiding federal judge stated that Trump's request for a stay pending appeal was entirely "frivolous."
---
A federal judge has rejected former President Donald Trump's fourth attempt to stay E. Jean Carroll's defamation lawsuit against him.
According to FOX News, U.S. District Judge Lewis Kaplan derided the former commander-in-chief's latest motion as "frivolous," finding that it was "yet another attempt to delay unduly the resolution" of Carroll's claim.
Kaplan said that neither Trump nor his attorneys had introduced any new evidence or arguments. Instead, the former president's legal team seems to have simply reiterated points that the court had already rejected outright.
"For the foregoing reasons, Mr. Trump's motion for a stay pending appeal (Dkt 185) is denied," Kaplan wrote in an order. "This court certifies that the appeal itself is frivolous."
The defamation case is currently slated to move to trial in January of 2024. FOX News notes that this is Carroll's second lawsuit against Trump.
Both of Carroll's claims relate to an alleged sexual assault that occurred in 1996.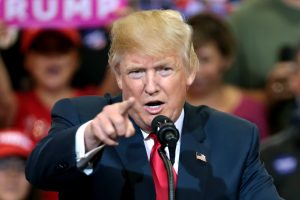 In her initial filing, Carroll said that Trump sexually assaulted her in a Midtown Manhattan Bergdorf Goodman store. Carroll never publicly spoke about the incident until Trump's first term was president was almost over.
Trump has long denied the allegations, saying that he does not know Carroll and never raped her.
However, earlier this year, a jury found that the former president should be held liable for sexual abuse.
Trump, though, says that E. Jean Carroll's claims are largely fabricated—a result of what he has branded "the greatest political witch-hunt" of all time.
"The DOJ will not defend me in the E. Jean Carroll civil case, which is all part of the political Witch Hunt, lawyered up by a political operative who I just beat in another case, financed by a big political funder, and 'judged' by a Clinton appointee who truly hates 'TRUMP,'" Trump wrote on social media in mid-July. "The statements that I made about Carroll are all true."
"I didn't Rape her (I won that at trial) and other than for this case, I have NO IDEA WHO SHE IS, WHAT SHE LOOKS LIKE, OR ANYTHING ABOUT HER," Trump said.
Carroll's claim has been pending for more than three years.
Since it was first filed, Trump has made many attempts—most unsuccessful—to shield himself from liability. In December of 2022, for instance, Trump said that he was entitled to "absolute" presidential immunity from most civil claim.
However, the court presiding over the case dismissed the immunity argument, finding that, even if Trump's defense were valid, it should have been raised at an earlier stage in the claim.
Sources
Federal judge denies Trump's 4th attempt to stop E Jean Carroll lawsuit, calling appeal 'frivolous'
Judge finds Donald Trump's appeal in E. Jean Carroll case 'frivolous'