The suit was filed by a flight attendant who claims to have seen the pilots livestreaming video from the plane's washroom.
---
A Southwest Airlines flight attended is suing the carrier for retaliation, saying she was punished for reporting two pilots who were livestreaming video from an airplane washroom.
According to AZCentral.com, Southwest has unilaterally denied all allegations, saying there was no camera in any bathroom.
The suit itself was filed in District Court. The plaintiff is named as Renee Steinaker, a Phoenix resident and experienced Southwest flight attendant. The complaint cites an incident that allegedly took place on February 27, 2017. Two and a half hours into a journey between Pittsburgh and Phoenix, Cpt. Terry Graham asked Steinaker to stand in the cockpit so that he could use the restroom—Southwest, notes AZCentral, requires two crew members to be in the cockpit at all times.
When Steinaker entered the cockpit, she saw an iPad mounted to the plane's windshield. On it, she could see a livestream of Graham using the bathroom.
Then, says the suit, co-pilot Ryan Russell panicked. He tried to convince Steinaker that the iPad and cameras were part of a top-secret security initiative, which Southwest Airlines was participating in.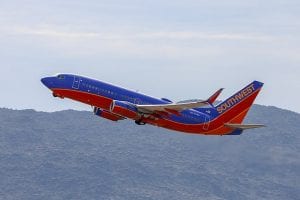 Steinaker, skeptical of the co-captain's claims, took a picture of the iPad with her cellphone.
"They led her to believe that she and others had been filmed—had been videotaped if you will—while they were using the lavatory. It's really hard to imagine a more outrageous kind of conduct," said attorney Ronald L.M. Goldman, who's representing Steinaker in the suit.
Once the flight touched down Phoenix, the pilots allegedly violated federal law by "[disembarking], leaving the aircraft unattended by piloting staff." Steinaker also claims that Graham "left a loaded firearm unattended in the cockpit, a violation of FAA regulations."
Steinaker says that she, along with other crew members, reported the incident to Southwest. However, Graham and Russell were both allowed to board their next flight. They continued to pilot Southwest flights unimpeded.
The lawsuit states that Steinaker was pressured to keep the incident under wraps, told that "if this got out, if this went public, no one, I mean no one, would ever fly our airline again."
Since reporting the incident, Steinaker says she and her husband—also a Southwest flight attendant—have been subject to retaliation, which has included stalking and "bizarre" monitoring by managers.
"In my view, Southwest Airlines has treated this as 'how dare they report it' rather than 'thank you for letting us know,'" Goldman said.
While Southwest didn't provide The Arizona Republic with extensive comment, the company did say that it never places cameras in airplane washrooms, ever.
"The safety and security of our employees and customers is Southwest's uncompromising priority," it said. "As such, Southwest does not place cameras in the lavatories of our aircraft. At this time, we have no comment on the pending litigation."
Sources
Lawsuit: Southwest pilots streamed video from bathroom cam