Flora's 2023 revenue guidance of $90 million to $105 million reflects expected organic growth in the House of Brands division and expansion of the Commercial & Wholesale division capabilities.
---
FORT LAUDERDALE, Fla.– (BUSINESS WIRE)–Flora Growth Corp. (NASDAQ: FLGC) ("Flora" or the "Company"), a leading all-outdoor cultivator, manufacturer and distributor of global cannabis products and brands, announced revenue guidance of US$90 million to US$105 million for fiscal year 2023. Flora is also offering its shareholders and the general public a 2022 year-end recap of the global cultivator's growth and expansion highlights.
Flora's 2023 revenue guidance of $90 million to $105 million reflects expected organic growth in the House of Brands division and expansion of the Commercial & Wholesale division capabilities. This forecasted growth also incorporates Flora's new German-based business as established through the acquisition of Franchise Global Health. Flora's German operations solidify a crucial foothold in a growing international cannabis market, providing a unique opportunity for operational synergies and diversified growth. Revenue growth is also expected to reflect the continued successful execution of product development and pricing strategies.
It is expected that the House of Brands and Commercial & Wholesale divisions will have roughly equal contributions to the top line, while the Pharmaceutical division is expected to contribute up to 10% of total revenue.
"We are pleased to announce that we will meet our guidance for 2022 and are issuing revenue guidance of $90 million – $105 million for the year 2023," said Luis Merchan, Chairman and CEO of Flora. "Our 2023 forecasted revenue range represents anticipated growth in excess of 100% over last year and highlights our continued momentum, despite a challenging macroeconomic backdrop that has disproportionately impacted the cannabis industry."
Operating Highlights for 2022 Included: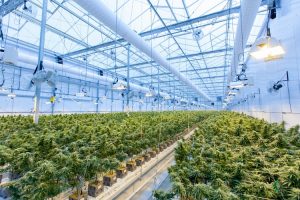 Acquired Franchise Global Health (FGH), an international cannabis company with primary operations in Germany.
Raised gross proceeds of $5 million through a registered direct offering, further bolstering Flora's liquidity position.
Initiated commercial cannabis exports to new international markets including the United States, Switzerland and the Czech Republic.
Completed acquisition of category-leading wellness brand JustCBD; expanding U.S. infrastructure and CPG portfolio.
Completed construction of Bogota, Colombia-based Flora Lab 4, a laboratory specializing in prescription cannabis formulations.
Flora appointed former Amazon executive Tim Leslie and former JP Morgan executive Brandon Konigsberg to its Board of Directors, named CEO Luis Merchan as Chairman of the Board of Directors, appointed former Amazon executive Elshad Garayev as Chief Financial Officer, and hired cannabis regulatory veteran Holly Bell as Vice President of Regulatory Affairs.
As a result of the FGH acquisition, Flora appointed former FGH CEO Clifford Starke as President of Flora and Member of the Board of Directors and former FGH Chief Operating Officer Edward Woo as a member of the Board of Directors.
Flora established JustCBD's on-the-ground presence in the United Kingdom and distribution operations in the EU, opening offices in London.
Flora acquired CBD brands Masaya and No Cap Hemp Co., enhancing new product offerings and revenue streams.
Flora was awarded Best M&A Deal at the Benzinga Cannabis Capital Conference for the acquisition of JustCBD.
About Flora Growth Corp.
Flora is building a connected, design-led collective of plant-based wellness and lifestyle brands, designed to deliver the most compelling customer experiences in the world, one community at a time. As the operator of one of the largest outdoor cannabis cultivation facilities, Flora leverages natural, cost-effective cultivation practices to supply cannabis derivatives to its commercial, house of brands, and life sciences divisions. Visit www.floragrowth.com or follow @floragrowthcorp on social media for more information.
Cautionary Statement Concerning Forward-Looking Statements
This press release contains ''forward-looking statements,'' as defined by federal securities laws. Forward-looking statements reflect Flora's current expectations and projections about future events at the time, and thus involve uncertainty and risk. The words "believe," "expect," "anticipate," "will," "could," "would," "should," "may," "plan," "estimate," "intend," "predict," "potential," "continue," and the negatives of these words and other similar expressions generally identify forward looking statements. Such forward-looking statements are subject to various risks and uncertainties, including those described under the section entitled "Risk Factors" in Flora's Annual Report on Form 20-F filed with the SEC on May 9, 2022, as such factors may be updated from time to time in Flora's periodic filings with the SEC, which are accessible on the SEC's website at www.sec.gov. Accordingly, there are or will be important factors that could cause actual outcomes or results to differ materially from those indicated in these statements. These factors should not be construed as exhaustive and should be read in conjunction with the other cautionary statements that are included in this release and in Flora's filings with the SEC. While forward-looking statements reflect Flora's good faith beliefs, they are not guarantees of future performance. Flora disclaims any obligation to publicly update or revise any forward-looking statement to reflect changes in underlying assumptions or factors, new information, data or methods, future events or other changes after the date of this press release, except as required by applicable law. You should not place undue reliance on any forward-looking statements, which are based only on information currently available to Flora (or to third parties making the forward-looking statements).