The bail-bond agents were looking for a man homeowner Donald Colas said hadn't lived there in more than 20 years.
---
A Florida man is preparing a lawsuit after bounty hunters stormed his Miami Gardens home without a warrant, looking for somebody who owed a paltry $750.
According to the Miami Herald, 'armed agents' woke up Donald Colas and his family on the night of May 5th. They surrounded his home, shining lights through the windows and waking up Colas' two-year old son.
When Colas refused to let the bounty hunters inside, they prepared to storm the home. Using a battering ram, stun guns and crow bars, they forced their way inside, breaking down two doors in the process.
While they checked underneath mattresses and searched the house, the Herald says they justified what they were doing by quoting a 147-year old Supreme Court opinion.
But the bounty hunters weren't looking for Colas or his one of his immediate relatives—rather, they were trying to track down his 28-year old cousin, Berlin Gabriel.
Gabriel, says Colas, hadn't lived at that address for more than 20 years. But he'd listed it as a place of residence in the past, following an encounter with law enforcement.
The 28-year old Gabriel, notes the Miami-Herald, had recently been arrested for driving with a suspended license. He posted $750 in bail but was declared a fugitive after missing a court date.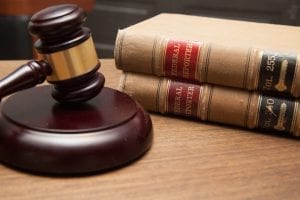 The only reason bounty hunters had to believe Gabriel might be inside was the address. But, unlike police, Florida's Department of Financial Services lists them as private agents. Granted extraordinary powers by the state's Administrative Code, bounty hunters don't need a warrant to enter a private residence if they have reason to believe a fugitive might be inside.
Colas was understandably upset not only by the intrusion, but by his cousin's decision to give police an incorrect address.
"I did not know he was going to use it," Colas said. "I was very upset by it."
The Miami-Herald has a video of the incident—in it, Colas can be heard saying that Gabriel isn't there. After he refused to let the bounty hunters enter, a standoff ensued.
But Colas didn't come out on top, as the agents—contracted by Manhertz Bail Bonds in Miami—purportedly "stormed an exterior fence" and then broke down the front door.
The Herald notes that Colas is planning to file a lawsuit. The man's attorney, Fraudlin Pierre, has blasted the intrusion as a "state-sponsored home invasion."
Even though police were called to Colas' home three times the night of May 5th, the bounty hunters were undeterred.
"We have more jurisdiction than police officers," one of them can be heard saying on tape.
Perhaps because of that, Miami Gardens police weren't wiling to intervene. The Herald says that, following the first call, a police supervisor informed the Manhertz contractors they couldn't compel Colas to open his doors.
They left shortly afterward, returning when the bounty hunters broke into the home. However, the responding officers allegedly did nothing more than stand outside.
When Colas called a third time, police didn't respond.
Pierre, speaking in an interview recapped by the Miami-Herald, characterized the circumstances as egregious. During a hearing, Gabriel himself said he'd missed his last court date because he didn't have money or a job.
"The guy didn't appear for a traffic ticket," Pierre said. "It's not like the guy was a murderer.
"What gives these individuals, who are basically just hired contractors, [the right] to go into a third party's home and destroy other people's property?"
The Herald adds that Florida doesn't technically have bounty hunters—instead, those who pursue fugitives are designated bail agents. And they're empowered to carry out warrantless searches by 19th century precedent which allows bounty hunters to pursue those who skip bond in their homes or at whichever address they list as a residence.
That's likely no solace to Colas, who said the agents seemed happy to turn his house upside-down.
"It's weird to me that they feel they're in the right to do that," he said. "You're violating something that's very sacred to someone. Now you have my wife [who doesn't] want to be there. She doesn't really feel secure there."
Earlier this year, in Idaho, two bounty hunters were stripped of their licenses for similarly holding a man at gunpoint, despite lacking a warrant or any probable cause to do so.
While Manhertz's contractors have yet to face any legal repercussions, over-reach by bail-bond administrators and enforcers isn't a local issue—it is, as the Miami-Herald writes, commonplace, disproportionately affecting the impoverished and those already struggling to afford the financial tolls of the judicial system.
It's likely no consolation to Colas or others who've come face-to-face with those who enforce the law outside its oversight, but Manhertz Bail Bonds' rating has tumbled precariously since the Herald's story went live.
Sources
Bill Aims to Rein in Bounty Hunters
Idaho bounty hunters held a man at gunpoint. A judge just barred them from the profession.
Miami bounty hunters armed with battering ram storm home over $750 bond, video shows