Dog owners beware. Bravo Packing, Inc., a New Jersey-based pet food company recently issued a recall for its Performance Dog frozen raw pet food products due to potential salmonella contamination. The company issued the recall shortly after a sample of the Performance Dog food tested positive for salmonella during an FDA inspection.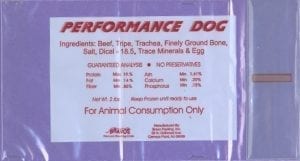 The recalled frozen product was sold in two and five-pound plastic sleeves and has a "manufactured date code of 071418…printed on the boxes that contain the plastic sleeves, not on the individual plastic sleeves."
If you have a box of the recalled product and have handled it, you may be at risk for salmonella infection and should keep an eye out for symptoms. Commons symptoms associated with salmonella poisoning include vomiting, nausea, fever, headache, and abdominal cramps, to name a few. Additionally, if your pet begins displaying symptoms or acting out of the ordinary after consuming the food, contact your veterinarian.
If you have an unopened box of the product, return it to the place of purchase or throw it away. Further questions and concerns may be directed to Bravo Packing's website at bravopacking.com or by calling 856-299-1044.
Sources:
Recall Issued for Frozen Raw Pet Food Product
Bravo Packing, Inc. Recalls Performance Dog Raw Pet Food Because of Possible Salmonella Health Risk to Humans and Animals
Join the Discussion