The FTC is hoping to evaluate how Juul and its competitors market their products.
---
The Federal Trade Commission (FTC) is asking Juul and five other e-cigarette companies to hand over information about how they market their products.
According to The Associated Press, it's the latest move in the Trump administration's crusade against vaping. Announced Thursday, the FTC says it wants to "better understand" e-cigarette sales and promotional practices. The department hopes to analyze marketing tactics, which range from promotional give-aways to social media sponsorships.
Those techniques, says the A.P., are at the epicenter of an ongoing federal investigation.
Juul and its competitors are facing similar pressures not only from Washington but individual states, too. Several states, including Michigan and Massachusetts, have placed quickly-considered bans and restrictions on e-cigarette sales.
Last week, New York Gov. Andrew Cuomo even attempted to use his executive powers to ban flavored e-cigarette pods outright.
Juul, for the most part, has been more than cooperative. The company has reiterated its willingness to work with federal and state regulators.
"We will fully cooperate and are focused on earning the trust of regulators, policymakers and other stakeholders," Juul said in a Thursday statement.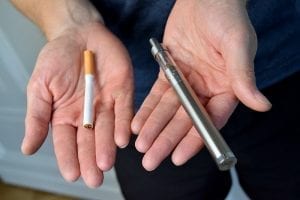 The company has also voiced support for restrictions on e-cigarette advertising, as well as the sale of flavored products. That's in spite of the industry falling in something of a grey area. As The Los Angeles Times notes, 'federal law prohibits traditional tobacco companies from numerous sales tactics, including' give-aways, sports sponsorships and advertising on billboards, T.V. and public transportation. But none of those laws apply to e-cigarettes, which were launched in the U.S. in 2007 and have only gathered significant sales traction in the past several years.
In response to a wave of vaping-related illnesses, as well as oft-repeated claim that companies like Juul target advertisements at under-age teens, the federal government has rapidly moved to re-evaluate its stance on e-cigarettes.
However, it's unclear what chemical or component is causing some e-cigarette users to develop complications. It appears, at least tentatively, that many of those who've been diagnosed with serious lung disorders also used e-cigarette products to vape marijuana.
Along with Juul, regulators are also demanding information from R.J. Reynolds Vapor CO., Fontem US, Logic Technology Development, Nu Mark and NJOY. The government is seeking marketing materials and documents dating back to at least 2015.
The L.A. Times writes that Juul has been surprisingly cooperative—and, for that matter, proactive. Last week, the company announced a series of concessions: it's replaced its chief executive, will no longer advertise in the United States, and will refrain from lobbying against any federal ban on flavored e-cigarettes.
Sources
Consumer watchdog agency probes Juul and 5 more vaping firms
FTC orders Juul and 5 other vaping companies to hand over information
Juul, E-Cigarette Manufacturers Face Heightened FTC Scrutiny