MGM expects the total award, which will range between $735 and $800 million, will cover thousands of potential claimants.
---
MGM Resorts International has reached an $800 million agreement with victims of the 2017 Las Vegas shooting.
The gunman, Stephen Paddock, had hidden a massive cache of weapons on the 32nd floor of the Mandalay Bay hotel. Fifty-nine people died and nearly 1,000 were injured after Paddock began firing out the window, taking aim at a nearby music festival.
Paddock had spent months planning the attack. He committed suicide shortly before law enforcement reached his room. Investigators found an assortment of semi-automatic rifles inside the Mandalay Bay suite, along with Paddock's hand-written equations to account for bullet drop and wind speeds.
According to The New York Times, it was the deadliest mass shooting in modern American history. Scores of lawsuits were filed in its aftermath, many of which presented novel challenges and difficult questions.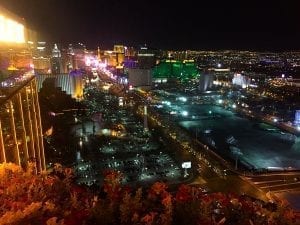 Thursday's settlement, says the Times, appears to have resolved many quandaries. While it's not unusual for survivors and family-members to file lawsuits in the aftermath of mass shootings, no single case has covered 'the scope and nature of the legal issues raised in the MGM case.'
And MGM employed unusual tactics to combat the kind of legal threat raised by hundreds of victims and thousands of affected survivors. The company attracted widespread criticism last summer for suing more than 1,000 victims, pursuing what the Times suggests was an aggressive but untested strategy to shield itself from liability.
Now, attorneys say MGM International has agreed to close many of its complaints. Robert Eglet, a lawyer working on behalf of some Route 66 victims, said the settlement pay-out will range between $735 and $800 million. The amount, says Eglet, is expected to cover all or nearly all of the lawsuits and claims stacked against MGM in relation to the 2017 shootings.
"While nothing will be able to bring back the lives lost or undo the horrors so many suffered on that day, this settlement will provide fair compensation for thousands of victims and their families," Eglet said in a statement, adding that the deal "represents good corporate citizenship" on MGM's behalf.
Another attorney for the plaintiffs, Craig Eiland, told the New York Times the settlement may cover up to 4,500 claimants, including everything "from death cases all the way down to those who had PTSD."
Most of the money will come from MGM's insurers, rather than the company itself. MGM's coverage limit, per the N.Y.T., is $751 million.
Pay-outs will be determined, at least in part, by an independent claims administrator, who will review victims' medical bills and other expenses. Following a circumstantial review, award amounts will be assigned and allotted.
Despite the massive pay-out, MGM's lawyers stress their settlement isn't an admission of liability.
"We believe there's really one person who is truly responsible for this and unfortunately, there's really no way to bring that person to justice," said MGM General Counsel John McManus. "When you have the choice of many, many years of litigation that's painful for everyone, it's definitely best for the company, the community and the victims to move forward and try to get past this."
Sources
Las Vegas massacre survivors, families reach $735 million settlement with MGM
MGM Agrees to Pay Las Vegas Shooting Victims Up to $800 Million
MGM Resorts Reaches Settlement in 2017 Las Vegas Mass Shooting