It's only natural for car accident victims to seek justice in response to any injuries they've incurred. Even if you initially appear to be relatively unscathed, you may very well find yourself contending with severe injuries that don't become apparent until well after the fact. As such, if someone else's negligence on the road has caused you to become seriously injured, you have every right to seek timely compensation. To help ensure that you're made whole in an appropriately expedient fashion, take the following tips to heart.
Take Photographs at the Scene 
After getting yourself to safety, your foremost priority should be taking stock of your injuries. Even if you don't think you've been injured, it's important to give yourself a proper inspection. Because of the adrenaline rush many accident victims are hit with, they often fail to realize the extent of their injuries until a fair amount of time has passed. So, provided you're able to do so without creating any pain or discomfort for yourself, meticulously look yourself over and photograph any injuries you find. 
Once you've taken pictures of your injuries, survey the scene of the accident and photograph any damage done to your vehicle, other cars and the surrounding – again, provided you're able to do so without placing yourself in harm's way. Photographic evidence will help you present a clear version of events to law enforcement, insurers and any other parties of relevance.  
Call 911 
There are a variety of reasons for which you'll need to call 911 following an auto accident. Firstly, failure to alert law enforcement may constitute a violation of the law, seeing as most states require people to make the police aware of all accidents that result in personal injury and/or property damage. Secondly, if the police don't get involved, there will be no police report of the accident – which is liable to make filing an insurance claim or taking the responsible to court virtually impossible. Thirdly, if you or anyone else at the scene have been injured, it is imperative that you receive proper attention from emergency services.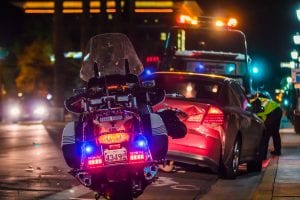 Document Your Version of Events 
When filing an insurance claim or pursuing a civil suit, you'll need to present a clear accounting of what transpired. To help ensure that you're able to record your version of events while the incident is still fresh in your mind, use your phone to make an audio recording at the scene. Then, the next time you're in front of a computer, type up your recorded recollection of the accident, making it as easy as possible for people who weren't at the scene to understand.  
Exchange Insurance Information 
In all likelihood, the responsible party's insurer will be tasked with providing you with compensation. As such, exchanging insurance information with them before leaving the scene is absolutely essential. However, should this person seem unapproachable or outright hostile, don't place your safety at risk any further. Instead, inform the police of their lack of cooperation when they arrive and request that they obtain the necessary info in your place. After an experience as stressful as a car accident, a verbal and/or physical altercation is the absolute last thing you need.  
Call a Lawyer 
If you're interested in pursuing a civil case against the person responsible for causing the accident, you'd do well to get in touch with a dependable attorney. Additionally, when negligent motorists and/or their respective insurers don't cooperate, collecting compensation may require you to enlist the services of a lawyer. You can help ensure that you wind up with the right person by seeking out attorneys with an abundance of experience in representing car accident victims. Mile High City residents who have incurred brain injuries as a result of automotive accidents should reach out to a knowledgeable, reliable Denver brain injury lawyer.  
It's perfectly natural to feel frustrated, angry and frightened in the wake of an auto accident. Depending on the severity of your injuries and the level of negligence exhibited by the responsible party, the desire to receive generous compensation in a timely manner is beyond understandable. So, if you've recently found yourself contending with personal injuries and massive vehicle damage as a result of someone else's subpar driving, don't hesitate to seek the restitution you're owed by putting the advice outlined above to good use.