Stand out from your competition. Be the lawyer, banker, doctor, etc. in a stylish hat.
---
Investing in quality men's hats is a great way to ensure long-term wearability and style. With the right hat, you can be sure that it will last through many seasons and become a wardrobe staple. Whether you're looking for something casual or something more formal, there are plenty of options out there to choose from. The following article provides an overview of some of the best hats for the modern man, and how to get the most out of your purchase. 
Types of Men's Hats
There are several different types of men's hats available on the market today, ranging from fashionable and stylish to practical and durable. Some classic styles include fedoras, Panama hats, trilbys, flat caps, baseball caps, and more. Each of these styles offers something different in terms of shape, material, color and texture. For example, a fedora can provide an air of sophistication while a trilby offers a more casual look. 
In the world of fashion, men's hats are an essential accessory. Not only do they provide added warmth and protection from the elements, but they can also be used to make a statement about your personal style. From traditional fedoras and bowler hats to modern baseball caps and beanies, there are countless options available for men looking to express themselves through headwear. But when it comes to choosing a hat that will last, investing in quality is a key. 
Here we'll discuss what features to look for when shopping for a men's hat that offers durability and long-term wearability. 
Material
The material used to make men's hats is also an important factor when selecting the right hat for your wardrobe. Natural materials like wool or cotton offer breathability and comfort while synthetics like polyester are lightweight and durable. Additionally, straw hats are perfect for warm weather climates as they allow air to circulate around the head better than other materials. 
When purchasing a men's hat, one of the most important factors to consider is the material it's made from. High-quality hats will usually be crafted from premium materials such as wool, cotton, and leather. These fabrics are known for their durability and breathability, making them ideal for everyday wear. Additionally, they can also lend a sophisticated look to any outfit. 
Size & Fit
It's important to find the right size and fit when selecting a hat. Generally speaking, the size should be based on your head circumference, which can be measured with a soft tape measure. When trying on hats, make sure they fit comfortably and don't pinch or rub against your head in any way. Additionally, you want to ensure that it sits squarely on top of your head with the brim straight across.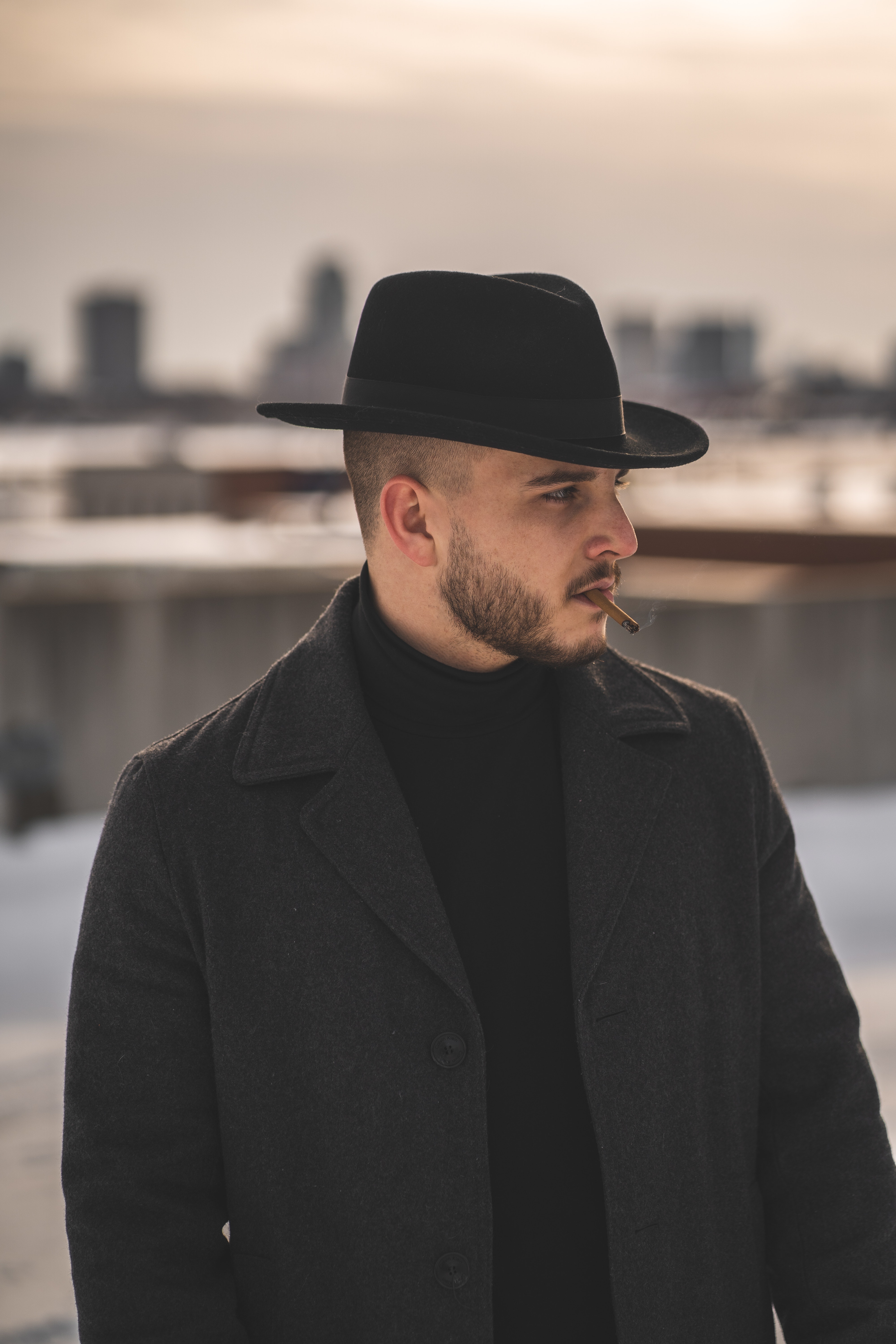 The shape of the hat is another key factor when choosing one for long-term use. Opting for styles that fit your head correctly not only looks better but also ensures the hat won't slip or become misshapen over time. You should also take into account the brim size and height—these features can help you find a design that complements your face shape perfectly. 
Care & Maintenance
Once you've found the perfect men's hat for yourself, proper care and maintenance is essential in order to keep it looking great. In general, most hats require occasional brushing and spot cleaning as needed. For woolen styles, avoid using hot water when washing and never put them in a dryer – always hang them up to dry. For other materials, it's best to refer to the manufacturer's instructions for cleaning and care. 
Quality Craftsmanship
It's important to invest in quality craftsmanship when shopping for a men's hat. Look for hats that are handmade and feature reinforced stitching, reinforced seams, and a lining made from breathable fabric. Additionally, pay close attention to the details—such as the quality of the brim and band materials—to ensure you're getting a product that is built to last. 
Conclusion
When it comes to buying a hat that will stand up to wear and tear over time, investing in quality is essential. Look for hats crafted from premium materials such as wool, cotton or leather; opt for styles with an appropriate shape and fit; and make sure you choose one with high-quality craftsmanship. By following these tips, you can be sure your hat will remain a timeless addition to your wardrobe for years to come.