Owner of three dogs that mauled to death a 9-year-old girl is given a $2 million cash bond.
---
9-year-old Emma Valentina Hernandez was mauled to death by three dogs owned by Pierre Cleveland, 33.  This month, Wayne County Prosecutor Kym Worthy announced that Cleveland is now being charged with the girl's murder and his bond has been set at $2 million cash.  The defendant will specifically face charges of "second-degree murder, involuntary manslaughter, and having a dangerous animal causing death."
Cleveland was arrested and arraigned in Detroit's 36th District Court, and his attorney, Emmett Greenwood, pleaded not guilty on his behalf.  According to Worthy, Cleveland allegedly "left his three dogs in his backyard…behind a fence that was damaged and not secure.  His home's garage side door was also open to the alley, where Emma was attacked."  The girl was mauled to death while riding her bike near the property.
Prosecutors asked Magistrate Millicent Sherman to set the man's bond at $100,000 while Greenwood asked for "a 10% bond with a GPS tether" which would allow his client to remain in his home.  Sherman made the decision to set the high, cash-only bond.  She also required Cleveland not have contact with any of the deceased girl's family members should he make bond.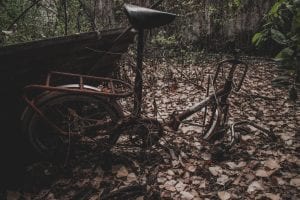 Cleveland's family was reportedly present at his arraignment and they were emotional when the prosecution alleged Cleveland had known for some time his dogs were dangerous and did not properly contain them despite this knowledge.  State prosecutors argued that Cleveland had known "the nature of his dogs and still left them alone" and that they allegedly "killed a puppy in Cleveland's home just a week prior to Emma's death."  According to prosecuting attorney Barbara Lanning, one of the animals had killed multiple puppies on July 29, 2019.  She also argued that Cleveland knew his yard was not secure.
"The allegations are that the defendant was harboring dogs he knew to be dangerous, he knew to be aggressive," Lanning said.
Two of Cleveland's dogs prompted calls to animal control last year when a Detroit resident saw them wandering unattended around the neighborhood.  When animal control officers visited the owner's home at the time, they were unable to make contact.
Greenwood said Cleveland no longer plans to live at the home where the mauling occurred and doesn't own the dogs anymore.  All three of the animals were handed over to Detroit Animal Care and Control and will be euthanized.  And while the attorney said that the $2 million bond was "outrageous," he also stated, "(Cleveland's) family is just praying for that precious child."
Cleveland's family members revealed they had been receiving death threats since the incident and fear for their safety.
Emma's funeral costs have been fully funded by a GoFundMe campaign that received attention from Detroit millionaire and Blight Authority founder Bill Pulte.  Pulte gained national attention for applying "high-tech and mass-production techniques to housing demolition, using a nonprofit entity that combines public and private funders.  While operating his Blight Authority in Detroit, his team was praised for clearing abandoned structures, trash and overgrowth from multiple blocks near Eastern Market, in the northwest Detroit community of Brightmoor and in the City of Pontiac, Michigan" according to Blight Authority's webpage.
Sources:
Detroit dog owner receives $2M bond, murder charge in 9-year-old's mauling
Bond $2M for dog owner charged with murder in mauling