A jury recently sided with a former Planned Parenthood employee, ending a whistle-blower lawsuit.
---
Planned Parenthood has been in the news a lot lately, especially as the battle between pro-life advocates and pro-choice advocates wages on. Now the entity is in the news over a wrongful termination lawsuit that recently settled for $3 million. According to the suit, a former Planned Parenthood director, Mayra Rodriguez, sued the organization for wrongful termination in 2017 after 17 years of service. Towards the end of her career, she began reporting that the "organization was endangering the health and safety of the women visiting their facility." Soon after, she was fired.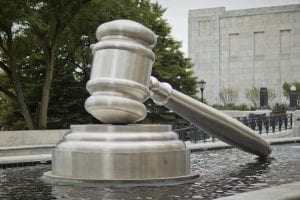 Though Rodriguez's suit did not list specific damages she hoped to win, a two-week trial and a three-hour deliberation resulted in an Arizona jury siding with her. In the end, the jury "unanimously awarded her $3 million for acting as a whistleblower in what might be an unprecedented case against the abortion giant." For example, the decision to side with Rodriguez's over Planned Parenthood demonstrates to some how Planned Parenthood cares more about silencing anyone who speaks out against its actions than actually helping women.
What were the accusations included in the suit, though? What were the issues Rodriguez reported that led to her wrongful termination? For starters, the lawsuit included several "accusations against Planned Parenthood that demonstrated its lack of medical care, concern for patients, and unethical practices." Her suit added that "Planned Parenthood fired her after she observed its many violations of state law and ethics guidelines, and after it fabricated a bunk claim that she had narcotics in her desk."
Additionally, "a couple of months before her termination, Rodriguez made several complaints against doctors and questioned business practices," according to the suit. On top of that, she began to notice a pattern of a "Planned Parenthood official performing abortions on patients who then experienced significant complications, including bleeding and cramps." The suit further stated, "Ms. Rodriguez was concerned about the substantial health, welfare, and safety risks to these patients, as well as the substantial risk to the health, safety, and welfare of the inevitable future of PPA patients."
As if those claims weren't enough, the suit also alleged that a handful of medical assistants often "complained about working with the same doctor during abortions and that the doctor had been requiring the assistants to sign an affidavit stating the abortion procedure was performed properly before they even did the procedure." The suit stated:
"The medical assistants believed the attestations were premature, wrong, and illegal because the abortion surgery had not yet been performed and they were concerned about the quality and thoroughness of the procedures."
On one occasion, a medical assistant even had to track down the doctor "after an ultrasound revealed the doctor had placed an IUD in a patient before an abortion was fully completed." On another occasion, one of the facility's managers allegedly "did not report that a minor with an adult partner was seeking an abortion, a blatant violation of state law meant to protect potential victims of statutory rape."
Eventually, Rodriguez voiced her concerns to her supervisor, even though she did not feel comfortable doing so because her supervisor and doctor in question were friends.
Soon after the jury's decision, Tim Casey, Rodriguez's attorney, met with reporters and said "the jury found Rodriguez was doing her job by reporting her concerns…It vindicated what she found and it ought to help our community be safer."
Despite the jury's decision, Planned Parenthood continues to claims the doctors and others did nothing wrong.
Sources:
Jury Awards Planned Parenthood Whistleblower $3 Million After She Disclosed Nasty Conditions At Facilities
Planned Parenthood whistleblower gets $3M from Arizona court after wrongful termination