Judge Balkman will decide Oklahoma's J&J case next week.
---
Judge Thad Balkman in Norman, Oklahoma is set to rule on whether Johnson & Johnson (J&J) should be held liable in a lawsuit brought by the state's Attorney General Mike Hunter who has alleged the well-known drug maker should be forced to pay $17 billion for its role in perpetuating the opioid epidemic.
In proceedings, Oklahoma mental health commissioner Terri White, previously stated J&J's insistence that it has zero responsibility for the state's opioid crisis "offends my decency," adding, "I feel like you all have repeatedly, through this trial, tried to downplay your role in all of the other products that were opioid products for which you provided the ingredients.  And I absolutely think that cannot go unnoticed.  That is part of the story but make no mistake I do believe Johnson & Johnson and Janssen oversupplied their own products as well.  It's absolutely about Janssen's drugs and the drugs that Janssen provided the ingredients to make – and if I haven't made that clear, please let me be very clear about that."
White also said, J&J "unleashed a series of bombs" and pushed addictive opioids into Oklahoma…without telling us you were going to do this, without you still accepting any responsibility today."  She added the manufacturer was better positioned to be proactive in the crisis and needs to stop blaming the state for not being more reactive.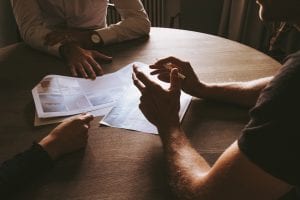 The seven-week bench trial that began in May of this year, during which Hunter sought to prove the company employed a long-lasting marketing campaign that "minimized the addictive painkillers' risks while promoting their benefits."  He stated in the filing, "J&J targeted vulnerable populations, including children and older adults, for painkiller prescriptions," adding, "J&J funded groups that aggressively advocated for easy access to opioids."
Hunter also contended, "If one takes a closer look at the portfolio of [J&J], they will find that it "produced raw narcotics in Tasmanian poppy fields, created other active opioid ingredients, and then supplied the products to other opioid drug manufacturers like Purdue Pharma."  Attorneys for the state argued that J&J acted as the opioid "kingpin" in the crisis that ensued.
Brad Beckworth, who represents the Oklahoma attorney general's office said, "J & J convinced doctors to start with and stay with medications intended only as a last resort," such as fentanyl.  He added, "Through greed and deceptive marketing practices, J & J aggressively competed with Purdue Pharma, which used a similar approach for OxyContin."
J&J said its opioid painkillers, Duragesic and Nucynta, represent a very small portion of all opioids prescribed in Oklahoma, and its attorneys argued Oklahoma is "responsible for its own drug review board and prescription monitoring program neglecting to divert opioid use."  It has indicated that the arguments regarding aggressive opioid marketing tactics outlined during the course of the trail were unfounded.  The company has denied wrongdoing.
J&J's attorney John Sparks responded to the arguments, "Facts matter, and as we have said from the beginning and look forward to showing again in our case, the company's marketing was squarely within the regulations, and it did everything a responsible manufacturer and seller of opioid pain medications should do." Balkman will rule on all points.
According to the Centers for Disease Control and Prevention (CDC), opioids were responsible for nearly 400,000 overdose deaths from 1999 to 2017, and since 2000, approximately 6,000 Oklahoma residents have had fatal opioid overdoses.
Sources:
Oklahoma judge to rule on Monday in opioid lawsuit against J&J
Oklahoma's Case Against Johnson & Johnson Moves into Defense Phase
Oklahoma Contends J&J Could be the Opioid Crisis 'Kingpin'