New England Coffee Company's Hazelnut Crème label is misleading, according to lawsuit.
---
A federal appeals court has revived a proposed class action lawsuit accusing New England Coffee Company for misleading consumers by selling a "Hazelnut Crème" coffee that contains no hazelnut.  The 1st U.S. Circuit Court of Appeals on Thursday by a 2-1 vote overturned a lower-court judge's 2018 decision to dismiss the case.
Court documents indicate, "Defendant New England Coffee Company, operating as a subsidiary of Reily Foods Company,sells a 'Hazelnut Crème' coffee.  Kathy Dumont contends that she purchased the coffee because she thought that a coffee styled 'Hazelnut Crème' contained some hazelnut.  After learning that the 'Hazelnut Crème' coffee contained no hazelnut at all, Dumont brought this putative class action challenging the coffee's labeling as a violation of Massachusetts' consumer protection laws.  The district court dismissed the case for failure to meet the heightened pleading standard of Federal Rule of Civil Procedure…Dumont purchased in Massachusetts at least one package of the 'Hazelnut Crème' coffee labeled as described above.  Dumont alleges that she would not have purchased the coffee had she known that it did not contain some hazelnut…Suing individually and on behalf of a putative nationwide class of allegedly similarly situated consumers, Dumont claimed that the packaging was (1) an unfair and deceptive practice under Massachusetts General Laws."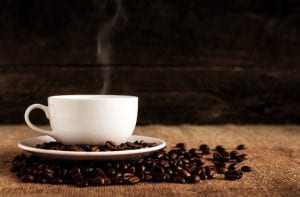 New England Coffee was found in 1916 by Menelaos Kaloyanides, George Kaloyanides and Megaklis Papadopoulos in Boston and is New England's largest independent specialty coffee roaster.  The business was acquired by New Orleans based Reily Foods Company on December 30, 2013.  It sells traditional and premium roast coffees as well as hot and cold teas.
The crux of the argument and subsequent decision made by the federal appeals court was, "One might presume that a reasonable consumer who, like Dumont, cared whether the coffee she intended to purchase contained real hazelnut would check the list of ingredients.  On the other hand, perhaps a reasonable consumer would find in the product name sufficient assurance so as to see no need to search the fine print on the back of the package, much like one might easily buy a hazelnut cake without studying the ingredients list to confirm that the cake actually contains some hazelnut."
In 2017, a similar lawsuit was filed against Nestle, which had advertised that its bottled water was pure, natural spring water.  The lawsuit alleged, "Poland Spring, Maine, dried out nearly half a century ago, and some consumers believe the actual water source is from the bottom of a lake.  Nestle's other collection sites are also no more than artificially created springs with pipes transporting water into wetlands and other contaminated sources…Unknown to the general public, one or more wells at each of defendant's six largest volume groundwater collection sites in Maine – which in recent years have collectively supplied up to 99 percent of the water in Poland Spring Water products – are near a present or former human waste dump, refuse pit, landfill, ash pile, salt mound, farm where pesticides were previously used, fish hatchery or toxic petroleum dump site."  Lead plaintiff in the class action, Mark Patane, claimed he wouldn't have spent the money he had on the product if he has known it was no more than ordinary, contaminated ground water.
Sources:
KATHY DUMONT v. REILY FOODS COMPANY; NEW ENGLAND COFFEE COMPANY
Lawsuit Claims Nestle 'Spring Water' is Actually Contaminated Ground Water