A South Lyon football player passes away after routine knee surgery.
---
Chad Stuckey is football offensive line coach at South Lyon East High School in Michigan.  Over the Thanksgiving holiday he was informed by player Trevon Tyler's older brother the high schooler passed away after knee surgery.  The surgery ended the 6-foot-4, 300-pound lineman's season.
A GoFundMe account, set up to help the family, said Trevon had died "due to a complication of that surgery."  The coach set up a meeting with players who were still in town.
"It was tough," he said. "The guys start coming in.  All you want to do is hug each one of them and tell them that you love them.  We hugged every kid on the way in, and then on the way out it was the same thing. You are still kind of numb and don't know what to do. We just want to make sure we are there for our kids."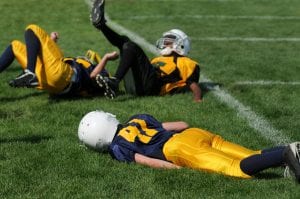 Head coach Joe Pesci said, "We had about 20 guys there, six coaches and my athletic director.  For about an hour we sat in the locker (room) and talked about the situation about Trevon.  We just expressed to our guys, 'We are all hurting. You are going to be hurting for a while. The big thing is, don't keep it in. Make sure as feelings start to build up, reach out to one of us, to a teammate, a parent, whatever.  Just to get it out."  He added, "Zander Desentz, our quarterback, stood up and talked to the guys about how bad it hurts right now, but from here on out, we dedicate everything to Tre.  And think about everything we are going to do.  The offseason.  Whether it's getting up to go to weights.  You have no excuse.  It was a pretty good message from him."
Trevon started every game on the offensive line before he was injured.  The player suffered a torn meniscus in an October game.
"When you are that big, it's tough to get off a block like that," Pesci said. "He played really well for us for seven games."  Of the injury, he added, "He had surgery maybe three or three-and-a-half weeks ago to have that fixed.  That surgery went really well.  They fixed everything up. He had been doing physical therapy with our trainer at the school…I guess he had to go back in, to get something cleaned up, a week ago last Monday.  They said that went well. They took care of everything. Everybody went on break.  He was in good spirits.  I guess, Thursday night, maybe late, he developed a blood clot.  And Friday morning, we were told he developed a blood clot, which led to a heart attack, and he passed away Friday morning.  It's somewhat mind-boggling that it could happen."
WebMD says blood clots are "common after an operation because you're usually staying in bed for long periods of time while you recover.  When you stop moving, blood flows more slowly in your deep veins, which can lead to a clot.  You're most likely to get a clot between two and ten days after your surgery, but your odds are higher for about three months."
Sources:
https://www.freep.com/story/sports/columnists/jeff-seidel/2019/12/01/south-lyon-east-high-school-football-player-trevon-tyler-dies/4348171002/