Employers need to know how to create contracts because they protect both the employer and the employee, and this is especially true for novel arrangements like remote work.
---
In 2020, the pandemic forced millions of workers to retrench completely. Even now, numerous employers continue to permit some or all of their remote employees to work remotely full-time for the foreseeable future. Working from home has become the norm, and there's no going back!
Businesses have come to understand that working remotely has many advantages, including better work-life balance, higher productivity, reduced stress, and no commute.
However, transitioning your current onsite setup to a remote work setup is easier said than done. It entails adjusting your workplace regulations, hiring practices, and—most crucially—hiring agreements.
Employment contracts are crucial for employees and employers because they legally establish the working relationship, including clauses for working from home, and lay out key frameworks and policies.
Although a contract would require much thought and time, what happens if something unexpected happens? 
Drafting a contract has many advantages for entrepreneurs to protect their businesses. This blog will walk you through all the essentials of creating a remote work contract for remote employees. To start, let's define remote work and the purpose of this contract.
What is Remote Work?
Remote working allows employees to work for an organization outside of the traditional office setting. While many of you may be confusing the terms "work from home" and "remote working," there is a slight distinction between the two.
Remote work expands on work-from-home by incorporating locations like cafes and coworking spaces.  
There are various models for remote work, including distributed, hybrid, and fully remote models.
Fully remote
Everyone on a fully remote team works in the same geographic area, but no one visits a central office. Typically, people work from their homes, coworking spaces, coffee shops, or wherever suits them best. 
Fully distributed
This model allows employees to work remotely from any location worldwide. This caters more to people who live in different time zones but can help your company multifold regardless – virtual assistants. 
A virtual assistant can work remotely, from anywhere, and complete all your trivial, recurring administrative tasks effectively. 
Hybrid
Depending on your policy, some employees work from a central office while others work from home in the same area or distributed.
What is a Remote Work Agreement?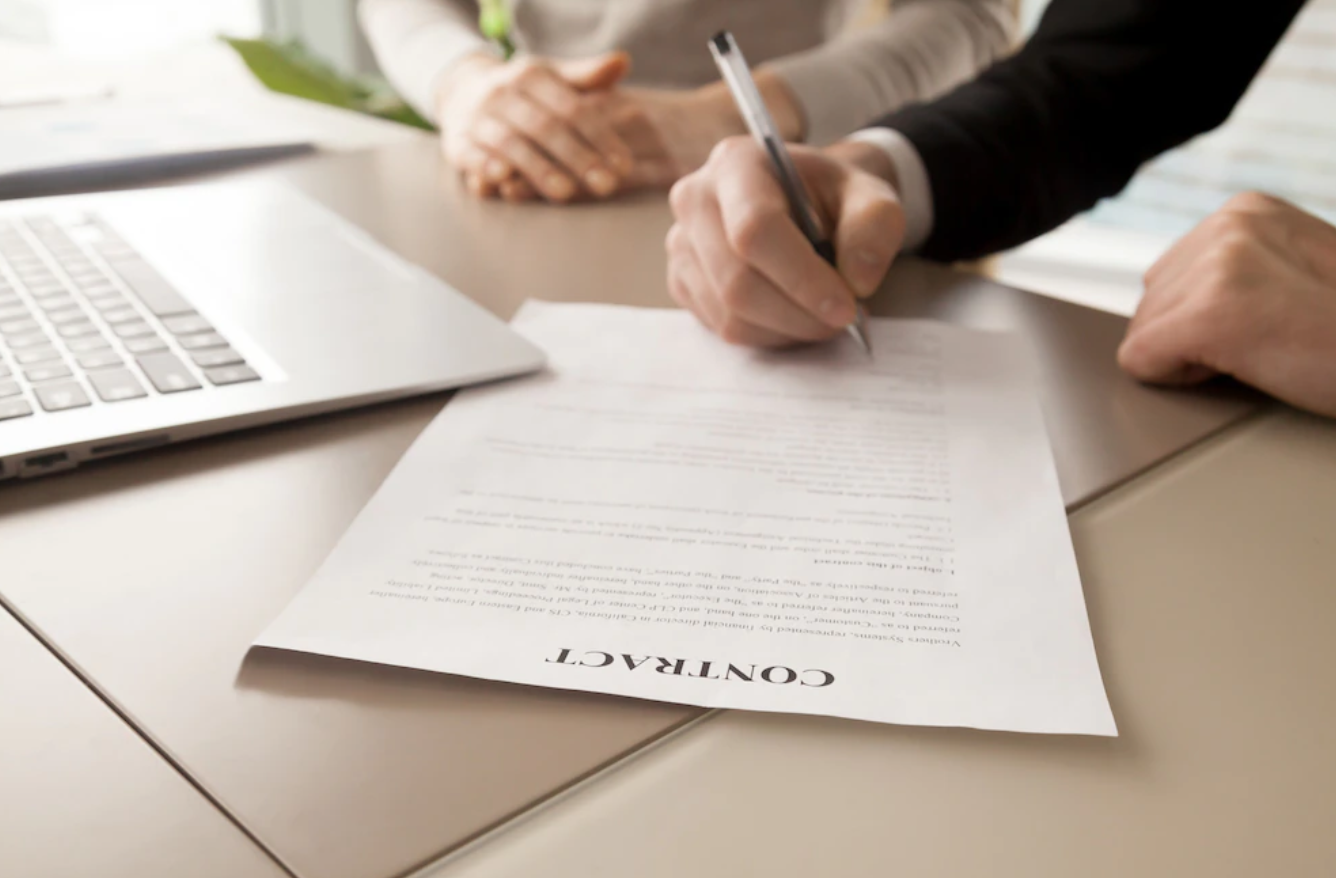 A remote work agreement is a contract that outlines a remote employee's obligations and responsibilities to their employer or organization. This agreement may be drafted at the beginning of an employment relationship where the employee works remotely following the corporate policy on remote work.
A remote work agreement outlines the work schedule and hours, collaboration tools, procedures and workflows, information security, and employee support. Every agreement for remote work must include pertinent sections that adequately address the needs of the employees and what is expected of them. The following list below represents some of the crucial sections.
What should be incorporated in an employment contract for remote workers?
Since an employment contract for remote workers is still an employment contract, it must contain all the essential clauses in standard employer-employee agreements, including policies, compensation, and responsibilities. Having said that, a few new sections should be added.
Workplace arrangement
Workflows and collaboration processes, core work hours, mandatory meetings, metrics for measuring employee performance, and other crucial remote work arrangement details are covered in the work arrangement section.
In addition, this section discusses required attendance at meetings, core work hours (i.e., a set time when all employees must be online), and performance evaluations.
Schedule
Employees in traditional workplaces are expected to report for duty on specific days and times (e.g., Mondays through Fridays from 9:00 AM to 5:00 PM). But when setting work hours, remote work offers much more flexibility, particularly if the employee is in a different time zone.
Expenses and Reimbursements
An employee who works from home will have costs. For example, they might use their phone and the internet for professional purposes. In addition, when they are at home working, they will need heat and light. What the employee can and cannot complain about should be expressed in the contract.
In addition to standard benefits, some employers offer perks specific to remote work, like travel reimbursement and memberships to coworking spaces. In some companies, employees are given the opportunity to pursue their passions. 
For example, if any of your employees are passionate about MMA, they may be interested in MMA schools. In that case, you can reimburse them for whatever school they choose. You will be able to establish a healthy employee-company relationship as well as encourage your employee to stay productive by letting them follow their passions. 
These specifics must be spelled out in the contract so the worker and the employer can benefit from the convenience of remote employment. In addition, the distribution of these benefits and reimbursements between the employer and the employee should also be stated.
Regulations regarding time off
You must establish leave policies for remote workers just like you would for those who work in your office. The leave of absence policy informs employees of the requirements for multi-day leave and how to apply for a leave. 
Additionally, the policy should include information about the number of paid leaves granted monthly or annually, the number of leaves that can be taken at a time, and maternity leave. 
Authorized equipment 
Your company might require all remote employees to use limited tools and programs. If there are any restrictions on how to use specific tools, you must make a note of them in the remote work policy.
Your remote team may require IDEs, messaging apps, time-tracking apps, task management apps, and project management software.
You must specify whether remote employees can use any software and tools they want or if your company only permits them to utilize the ones they use.
Options for technical support
Indicate what steps remote employees should take in the event of a technical issue and the IT support resources available (such as a virtual help desk through Zoom or a round-the-clock emergency IT hotline).
Conduct Guidelines
The contract should outline the company's expectations and the code of conduct for remote employees. By doing this, the business maintains its reputation while safeguarding the professional welfare of its employees, mainly if they will in any way represent the business.
Conclusion
Business owners who permit or are considering permitting employees to work remotely should take their time. This entails carefully considering and putting the proper guidelines, protocols, and other safety measures to avoid unpleasant surprises for them and their businesses.
Organizations implementing work-from-home policies or planning to add remote employees to their teams must create comprehensive policies for remote work and incorporate them into employee contracts.
Employers need to know how to create contracts because they protect both the employer and the employee, and this is especially true for novel arrangements like remote work.  
However, to save time and avoid these legal and contractual hassles, hire a virtual assistant from a reputed virtual assistant services provider like Wishup. All the hiring procedures are entirely taken care of by them, while you only pay for the hours you have used virtual assistance.