Immigration activists seem split on whether deported Cubans will face persecution from Havana.
---
Immigration officials in Florida recently deported over 120 Cubans on a single flight.
Taking off Friday on an Immigration and Customs Enforcement charter flight from New Orleans to Havana, the round-up is among the "largest" mass-repatriation operations against Cuban nationals to date. And, according to the Miami-Herald, there are many more in the works.
It's all part of a years-long initiative by the Trump administration to take on illegal immigration, no matter the costs to those affected. Ironically—for a president as obsessed with undoing the legacy of his predecessor as Trump—Washington only has the power to send Cubans back home because of an Obama-era agreement.
"The government is trying to deport as many people as they can regardless of their legal claims," said Miami immigration attorney Randy McGrorty, who serves as executive director of Catholic Legal Services.
McGrorty, adds the Herald¸ represents a Cuban national who was supposed to be on the charter back to Havana. But the discovery of a last-minute paperwork glitch gave the man his freedom.
"South Florida," Andrews said, "should be up in arms."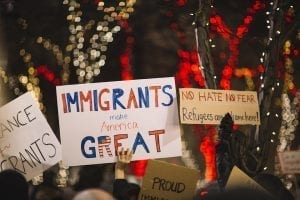 The Herald says it's unclear now exactly which demographic is being deported: Cubans who have been living in the United States for decades, or recent arrivals. One way or another, immigration officials say they're confident deportees won't face significant persecution upon successful repatriation.
Cuba is, in fact, legally required to accept citizens deported from the United States. The migration accord signed between the Obama administration and Havana mandates that, "The United States of America shall return to the Republic of Cuba, and the Republic of Cuba shall receive back all Cuban nationals who […] are found by the competent authorities of the United States to have tried to irregularly enter or remain in that country in violation of United States law."
That deal, says The Miami Herald, ends the long-standing practice of allowing undocumented Cuban migrants who manage to make their way into the United States a chance to remain and gain legal status.
Because of the rocky history between the U.S. and Cuba, long allied with the Soviet Union, ICE is touting the deportations as significant not only in size but political scope, too.
"With the charter flight's high number of removals, [ICE Miami] contributed ten special response team operators to ensure adequate mission security onboard the flight," ICE said in a statement. "The large removal charter is made all the more significant given Cuba's longstanding status with respect to accepting the return of Cuban nationals ordered removed from the United States and abiding by key provisions of the U.S.-Cuba Joint Statement. Cuba has a long history of being deemed an uncooperative country."
McGrorty and other Miami-area immigration attorneys say the policy shift is a cause for concern, given that Cuba's Communist regime hasn't liberalized.
"Let's see what happens to them upon arrival," McGrorty said. "Are they going to have access to employment, a place to live? Are they going to have benefits that the other Cubans have? Are they going to face persecution?"
Attorney Juliana Lamardo told the Herald that, historically, Cuba has been reluctant to accept its deported citizens—in part because many were politically dissident, and in part because Havana feared an influx of since-aged migrants could strain its healthcare system past capacity.
"But that has all changed—everything has changed," Lamardo said. "Cuba is welcoming these people with open arms. Before, there used to be what we called a 'secret blacklist,' where maybe two or three Cubans were deported, and nobody found out. But now? Now we're talking entire airplanes. Something has changed the mind of the Cuban government, we just don't know exactly what."
Sources
ICE Put 120 Cubans on a Flight to Havana in Major Deportation Ramp-Up
Immigration officials deport 120 Cubans to Havana — and that's just the beginning