The group of students claim that transgender youth are at higher risk for bullying and harassment when they cannot use the restrooms and other facilities customarily assigned on the basis of biological sex.
---
A group of Idaho students have filed a lawsuit against state education officials, alleging that recently-passed legislation prohibiting transgender youth from using bathrooms that correspond with their gender identity is "cruel."
According to the Idaho Capital Sun, the statute—signed into law by Idaho Gov. Brad Little in May—requires that all public schools maintain two separate restrooms, locker rooms, and changing areas, among other amenities.
All of these areas, the bill stipulates, must be segregated on the basis of students' biological sex.
"No person shall enter a multi-occupancy restroom or changing facility that is designated for one sex unless such a person is a member of that sex," states the legislation, enacted as Senate Bill 1100.
The bill, notes the Capital Sun, was drafted in large part by the conservative Idaho Family Policy Center.
Like similar legislation in other states, the statute threatens civil action against violators.
If, for a example, a student believes that their school administration is allowing transgender children to use the "wrong" bathroom, they are entitled to file a civil claim against the school.
Violators may be ordered to pay up $5,000 per claim.
The federal lawsuit, says the Idaho Capital Sun, was filed on behalf of Boise High School's Sexuality and Gender Alliance. They are represented in their claim by Lambda Legal and two private law firms—Munger Tolles & Olson, and Alturas Law Group.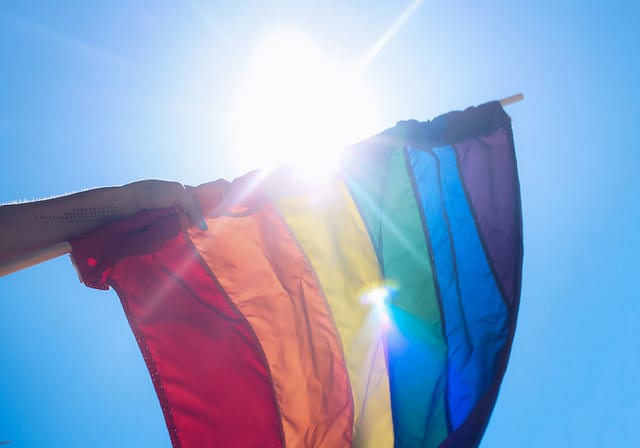 Collectively, the student plaintiffs are seeking damages from State Superintendent of Education Debbie Critchfield, the Idaho State Board of Education, and the Boise School District.
"There is no reason to keep me and my transgender classmates from continuing to use the same school restrooms as our peers, which school policy has allowed us to do for years," Boise High School Sexuality and Gender Alliance club President Atlas Jones said in a press statement. "It would be humiliating, distracting, and exhausting to try to make it through the school day without having proper access to bathrooms."
Before the law took effect, the Capital Sun reports, many Idaho schools allowed students to use whichever bathroom corresponded with their preferred gender identity.
The lawsuit suggests that transgender children could be harassed or harmed if they are forced to use facilities that match their biological sex.
"Excluding transgender youth from the facilities aligned with their gender identity can force them to come out to others every time they use […] causing transgender youth to disclose their transgender status involuntarily in situations where they would otherwise keep that information private," the lawsuit alleges. "Such forcible outing will subject these youth to an increased risk of harassment and even bodily harm in violation of their basic right to privacy."
Sources
Boise students sue Idaho officials 'to protect trans youth' from school restroom bill
Lawsuit filed over Idaho Republicans' 'cruel' transgender bathroom law for schools